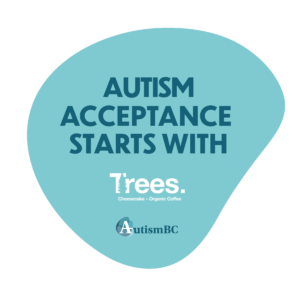 In April we are celebrating Autism Acceptance Month and we are grateful to support AutismBC's campaign. Shop online or in-person and add on to your bill for a donation to AutismBC. Your contribution will go towards supporting their programs throughout the province. You support them participating in "add a toonie for autism" on any of our 7 locations.
Let's talk about Autism?
Next week we will have special guests live on Instagram. See the schedule below and don't miss them out.
April 15th – Dr. Worling will speak about the Autism spectrum, early diagnosis, parenting, and statistics. If you want to participate, stay tuned for the Questions Upload link coming up soon.
April 16th – chat with our most special customer, Blake Parkinson. He has been our customer at 450 Granville for 3 years now and will talk about Autism acceptance. His mom will also join us, talking about how parents play an important role in their child's development. Joette Heuft, from Square Peg Society, will talk about how their non-profit organization supports Autism Spectrum Disorder adults in building self-supporting, independent lives.