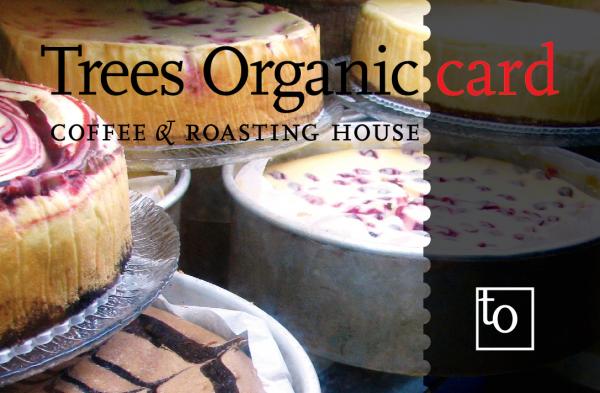 Already thinking about gifts for the holiday season? If you've got a Christmas, Chanukah, or New Year's bash coming up (and that pretty much covers all of us, unless you're not planning on entering 2012) and want to give back to your friends and family, we've got some coffee-bean scented holiday gift ideas:
Trees Organic Coffee House gift cards
Come and enjoy our coffee, award-winning cheesecake, hot apple cider, sandwiches, soups – anything you see in our café, with the convenience of a swipe card. Purchase or reload your card at any of our café locations in Vancouver and Richmond and easily check your balance at the till or online. Perfect for the coffee lover, tea drinker or café dweller in your family – and a lot more thoughtful than handing over wad of crumpled bills. Reload, reuse, rejoice!
Cheesecake for dessert!
The whole family has come over for the holidays and they're hungry. Spoil them with Vancouver's best cheesecake. Everybody loves cheesecake – even little Timmy, who can't be bothered to finish his yams. We serve it up in seven flavors, including the Sin (Belgian chocolate and sour cherries), blueberry, mocha, key lime, the classic New York style, plus the flavor of the season: Chocolate Orange!
Gift bags of coffee beans!
On a winter morning the day after the big party, wake yourself up with some organic fair trade coffee beans from the best coffee-growing regions on the planet. We've got beans from Peru, Guatemala, Colombia, Mexico, Costa Rica, Sumatra and more. Ask our café baristas to recommend the perfect beans for your special someone, whether they prefer something with full flavor, spice, smokiness or hints of flavor like chocolate.
Catered soups, sandwiches, desserts and more for your office New Year's party!
Treat your Vancouver or Richmond-based office to our catered sandwiches, salads, specialty platters, cheesecakes, vegan desserts and more. Try some of our customers' favorites, like Spinach and Chickpea or Tandoori Chicken wraps, bocconcini, Proscuttio & Brie, Turkey & Swiss and other tasty selections.
If you're in our neighborhood, drop by for some seasonal good cheer on one of our music nights!