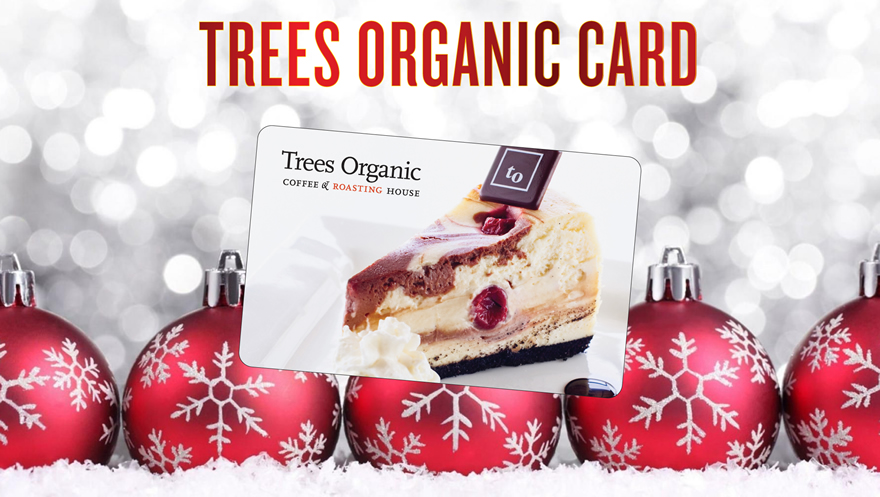 $25 Gift Card for only $20!
'Tis the season for giving and we're getting in the spirit with more savings for all our customers! From December 14 to 20, buy the Trees Organic Card for less – pay only $20 for a $25 gift card*. Available at all Trees Organic cafes in Vancouver and Richmond.
Holidaylicious Gift
The Trees Organic Card makes a delicious Christmas gift of choices. Share the love of organic coffee, scrumptious cheesecakes, plus a big selection of beverages and savoury/sweet edible goods. The cards are great as stocking stuffers, or treat yourself and stock up! You or your giftee can use the gift card on anything at all our five cafe locations.
Alternatively, you can take advantage of our other gift card sweet deal – buy a $25 Trees Organic Card and get a FREE slice of any cheesecake, until Dec 25.
Stay ahead of the Christmas rush. Finish your shopping with our two gift card offers – save more, enjoy more!

The gift card has no fees or expiry date, and can be reloaded anytime. Register the card for balance protection against loss/theft and for extra perks.
*Offer valid December 14 to 20, 2015. Valid on new card activations only. No restrictions on the number of $25 gift card purchases. Cannot be combined with any other promotional offers.
Trees Organic Card FAQ's and Terms of Use