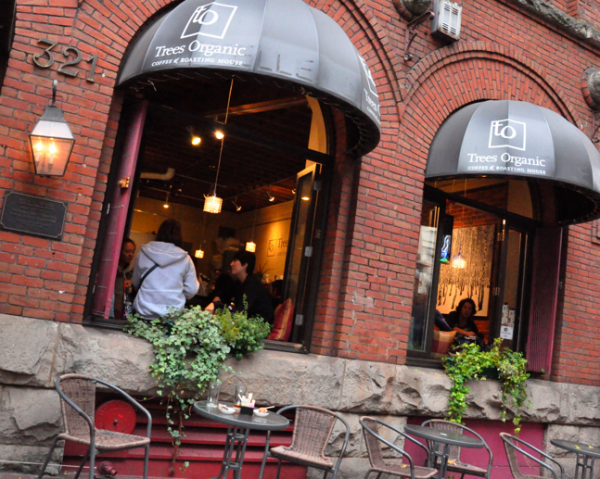 Our location on Granville is a popular and well-known spot to see Vancouver's café culture up close. But did you know that Trees Organic Coffee and Roasting House has three locations around Vancouver and one in Richmond, uniquely blending into each neighborhood?
Trees' Downtown Vancouver Location. 450 Granville Street
Our café at 450 Granville Street in the heart of downtown Vancouver has been serving up a great roast (and teas, tasty sandwiches and delicious cheesecakes) since 1996. Whether you're stopping in for your first cup of the day before heading to work or dropping in for one of our mellow music nights, our customers are helping carry on a Vancouver tradition.
Trees' Gastown Location. 321 Water Street
Gastown is Vancouver's "first neighborhood" and we love being part of this area's funky, eclectic and artistic vibe. Here's an excerpt from a review from this Trees café location from Vancouver blogger Hummingbird604:
I had been a frequent customer of the Granville and West Hastings location, up until when I discovered that there was another location in Gastown… The cheesecake (and yes, I know – I'm weird – I *hate* cheese but *love* cheesecake) is definitely to-die-for. The decor at Trees Organic Cafe is pretty nice, and I have enjoyed a couple of evenings there just alone (ironically, always bumping into a well-dressed young blond guy who is reading on his iPad).
Trees' Yaletown Location. 1391 Richards Street
Trees Yaletown café at the corner of Richards and Pacific opened in September 2009 to rave reviews. Yaletown is Vancouver's trendy and upscale renovated warehouse district, now home to a heady mix of tech startups, niche boutiques and popular watering holes. Here's one perspective from Urban Spoon's The Discerning Palate:
Hmmm…walked into this rustic looking coffee shop and was knocked out by how authentic it is. Great vibe! Great atmosphere! Friendly staff! Excellent latte!

The cheesecake I wanted was sold out though – "The Sin" Cheesecake….too bad! Maybe next time! I hear it is to die for! The bottom line for Trees Organic Coffee: Thumbs Up!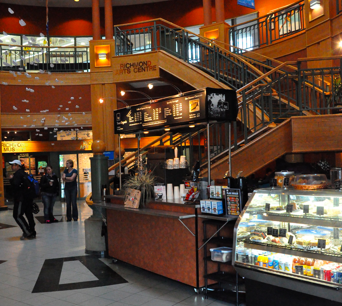 Trees at the Richmond Library & Cultural Centre. 7700 Minoru Gate
Our Richmond cafe is one of our oldest locations. Richmond is much more than a bedroom community for Vancouver – it is one of BC's most culturally distinct areas and home to a vibrant city center. Here's a review from one Yelp customer who happened to wander into our café for a latte and something sweet:
Trees Organic makes such a fantastic cheesecake. And whenever I want to grab a dessert for my girlfriend and I, then I come and will always grab one.

What's interesting is that Trees Organic has several locations in downtown Vancouver, but this is a bit of a hidden gem and most people aren't aware thatthere's one in Richmond.
See café operating hours for all of our Trees Organic locations