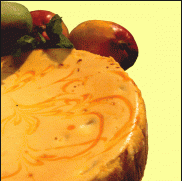 We're very proud to be known for serving up Vancouver's best cheesecake and our summer recipe is our tastiest flavor yet: Mango Splash!
Chunks of fresh mango nestled in our traditional New York base, swirled with mango puree make a fluffy, smooth summer treat. You can even throw it in the freezer for a cheesecake/ice-cream- inspired delight. This cheesecake already has a major fan following!
Sounds good? It tastes even better. And we can prove it.
Come in to our Trees Organic Yaletown café at 1391 Richards St. this Wednesday, July 13, between 2 and 6 pm and try a taste of our Mango Splash cheesecake in a tasting cup.
We bet you can't just stop with a taste! Get $2 off a slice of Mango Splash cheesecake during the tasting from 2 to 6 pm. We're also giving away 25 vouchers (they're going to go fast!) for $5 off a whole cheesecake.
We're excited about our cheesecake tasting day and we want the whole world to know about it. So we're running a contest, too!
Trees Organic Twitter Cheesecake Contest Details
When you see a tweet from @TreesOrganic promoting Wednesday's tasting, just retweet it and you'll be entered in a draw for a $20 Trees Organic gift card. The winner will be announced on Thursday – on Twitter, naturally.
Look out for a tweet like this (though with the actual website link in there):
Free Mango Cheesecake tasting at Trees Yaletown café Wed 2-6pm WEBSITE LINK #Vancouver RT to win gift card
See you at the tasting at Trees Organic Yaletown this Wednesday!