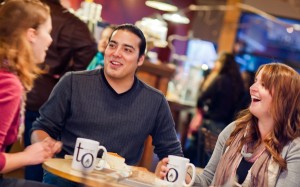 Vancouver is a cold, cliquey kind of town? Really? Don't believe it. There are 713 groups on Meetup.com in the Vancouver area alone, along with dozens of events listed on Facebook and over 1,000 local professional networking groups on LinkedIn. Our Yaletown, Gastown, Richmond and Granville cafes are the perfect cozy locations for your next friendly gathering.
The Vancouver Blogger Meetup is one group that has decided to try us out. They're coming down to our Yaletown café on the afternoon of Saturday, March 24 (and if you're a blogger – or prospective blogger – in Vancouver, you'll want to check this out):
This sociable blogger meetup will be for food bloggers to mingle with the rest of the bloggeratti, while we taste some cheesecake and try three different types of special coffee flavors. Aaahhhh… Caffeinated good times.
7 Reasons To Have Your Next Meetup at Trees Café
Fresh, world class fair-trade organic coffee and specialty drinks. Did I mention before that we're a coffeehouse? Mingle and schmooze amid the scents and flavors of exotic and tasty coffee beverages, from lattes and cappuccinos to espresso.
It's warm and cozy. "The Gastown location has two big windows with benches and pillows which make it a nice and comfortable place to relax, read a book, or hang out with a friend," says Trees Organic barista Irene. Between standing around in a crowded noisy bar or chilling with friendly faces in a warm coffeehouse, there's really no comparison.
We're easy to get to. Our Yaletown café is within a ten-minute walk of probably a quarter of the condos in downtown Vancouver. Our Richmond café is right outside the Richmond Library in the main rotunda of the Cultural Centre. And of course, our Gastown and Granville cafes are right in the heart of the city.
Awesome teas and snacks. Sure, we love our coffee, but our customers like to have a nosh as well. "They have the most amazing feta and spinach scone in the morning," says Phoenix L. on Yelp. "Fresh out the oven with large chunks of feta, it is one of my guilty pleasures in the morning! They also have a great selection of teas, my favourite is the Jasmine green tea."
Trees café customer Marie M. says: "Trees is amazing, not only because the staff is friendly and knowledgeable, and they serve awesome coffee that they roast right in the shop, and that they serve REAL loose leaf teas, and that they have a great food/ pastry selection, but because they are also VEGAN friendly: they have soymilk option for lattes, a vegan power cookie (très good -my fave), a delicious vegan scone, and an ultra healthy vegan gluten-free fruit and nut bar.
Vancouver's choicest cheesecake. Seriously, people voted and everything.
Not a big fan of voting? Here's a review from Noa G. "Over the years, I've tried my fair share of flavours — including classic New York (my personal fave) and "The Sin" (a devilish mix of cherry and chocolate) — and can say with complete confidence it may just be the best cheesecake I've tasted in the city — creamy and velvety, with tons of flavour and (depending on the type you choose) big bursts of fruit buried inside every bite."
We're friendly. We'll greet you with a smile and do whatever we can to make your stay comfy and happy. We love our customers and serve them with pride.
We do coffee and cheesecake tastings and host "foodie" events. Make your social meetup extra special. Learn about the origin of the coffee you're drinking and try some of our famous cheesecake.
Interested in holding your next meetup or social gathering at one of our café locations in Vancouver or Richmond? Contact us today about availability of seating for your group and reserve a spot