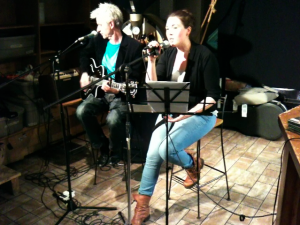 Many of our cafe customers of our flagship cafe on Granville Street know that Trees has Live Music Nights every Thursday and Friday evening, starting at 8 pm, featuring some of the most talented singers and musicians this city has to offer. Every week, we see incredible performances that liven up our nights and put that extra zing in our lattes.
We're excited to announce that our Live Music Nights are also happening at Trees' Gastown location at 321 Water Street in downtown Vancouver. Shows are coming every Saturday night during the summer (June 2nd – September 29th) from 7:00-9:00 pm at our Gastown café.
Check out our schedule of live performances at both locations, where you can be treated to performances by artists such as Mark Desouza, Jodi Doidge and Rob Fillo. Stay up to date with our schedule and make sure you get there early to listen to the musicians you know and love (and some that you'll love as soon as you hear them for the first time).
How to Book Your Musical Act at Trees Organic on Granville or in Gastown
Are you a musician looking to put on a show? Here's what you need to know.
Gastown. Contact Marq DeSouza for booking enquiries.
Granville. Contact John Pippus for booking enquiries.