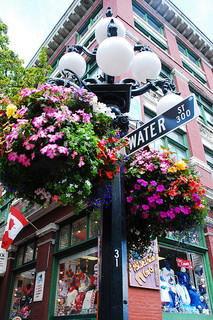 We're lucky that all of our cafes are pretty much in the hearts of Vancouver's diverse communities. From fireworks to festivals and pedestrian-only streets on weekends, events keep the neighborhoods bustling from Granville to Gastown, Kitsilano and beyond. After you drop by for a cup of your favorite coffee, here's what you can see and do in the neighborhood:
Events Around Our Downtown Granville and Gastown Cafés
VIVA Vancouver. As you've probably already seen if you're in downtown Vancouver on weekends, the street just outside our flagship location at 450 Granville Street turns into a pedestrian paradise. Enjoy a coffee on dainty tables in the street from a perfect people-watching vantage point, or take part in weekend activities. From hula hoops to salsa dancing and more, the fun continues until early September. Check out their calendar of events!
Scan Our QR Code for Deals on our Famous Cheesecake! During the VIVA weekends, do you see a sandwich board with a Trees Organic logo and a QR code? Scan it with your smartphone and come into our café to get 25% off a slice of cheesecake!
Live Music Nights and Open Mic Sessions! Right in our Granville and Gastown cafes, you can enjoy some fun entertainment, free with your coffee or dessert. Pull up a chair and take in the antics at our Open Mic nights on Thursday at the Granville café, starting at 8 pm – or stop in for some live music Friday night by some of Vancouver's most talented performers. Our Gastown café at 321 Water Street has live music on Saturday, starting a little earlier at 7 pm. Enjoy a slice of cheesecake with a side of mellow coffeehouse tunes.
Art & Performances in Gastown. In the historic heart of Vancouver's downtown, you're never far from an exhibit, art showing or the occasional live performance by talented people. For instance, after you grab your coffee to go, maybe check out the Marina Roy Window Project at Artspeak on 233 Carrall Street.
Events Around Our Yaletown Café at 1391 Richards St.
Welcome, new Yaletown neighbors! New residential buildings seem to be opening up all the time here and we're pleased to have you in our neighborhood. Drop by for a coffee, scone, cheesecake or more.
Art and Recreation at the Roundhouse Community Centre / David Lam Park. From the Queer Art Festival exploring social, gender and political boundaries and the Papergirl Vancouver community art exhibit to Picnic in the Park and Yaletown Movie Night, there's plenty going on around this neighborhood landmark. Drop by for a coffee and then head over to take in some great art.
Events Around Our Kitsilano Cafe at 2655 Arbutus St.
Arbutus Block Party. It's a neighbourhood BBQ on Sunday, August 18, with games and great food. Families, kids and dogs welcome! A friendly get-together for the local community.
Kitsilano Showboat. Free evening shows Monday, Wednesday, Friday and Saturday until August 17. Check their schedule and find a performance that speaks to you!
Kitsilano Farmers Market at 2690 Larch Street. Grab a coffee and then wander down to meet your neighbors and pick up some prime produce.
Bard on the Beach. Shakespeare under a big tent by the beach. How do you say no to that?
Take a Walk Down to Kitsilano Beach. OK, this technically isn't an "event", but it's still a fun thing to do. Walk straight down Arbutus with your coffee in hand and you could be on the beach enjoying one of the city's greatest natural scenes in just 10 minutes. Take your dog, or go with a friend and play some basketball or tennis. It's summer. Get out there, people!
Events Around Our Richmond Cafe at the Richmond Library
International Summer Night Market & Richmond Night Market. Continuing into the fall, these festive scenes of food, entertainment and unique vendors are not to be missed.
10 Minute Art Tours. Get to know your neighborhoods around Richmond while enjoying the art scene. Plenty of these public art installations are right around our centrally-located coffeehouse!
Did we miss a community announcement or event around our cafes? Message us on Twitter us or let us know on our Facebook page and we can help share it with the world.