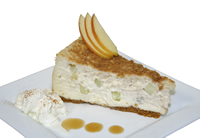 It's apple harvest time! You're probably already sipping ciders on your patios in the sunny weather, but we've got more apple-y goodness coming your way: September's feature is Apple Crumble Cheesecake!
Made with B.C. Granny Smith apples and infused with cinnamon, nutmeg, brown sugar and other natural ingredients, this tasty dessert is beloved for its tangy sweetness, subtle spiciness and crumbly-creamy texture. This cheesecake also goes particularly well with our cafe beverages; order a slice of this cheesecake to go with a latte, mocha, cappuccino or one of our regular drip coffees — then just take your time sipping your beverage in between bites of this delicious dessert.
I love all of our cheesecakes, but this dessert has a particular attachment for me. Growing up, my grandmother would make an apple crumble that was always a family favourite — and I get the same feeling when I taste the freshly-made apple crumble cheesecakes from our own Trees Organic bakers. A lot of love goes into this dessert. We hope you'll taste it with every bite.