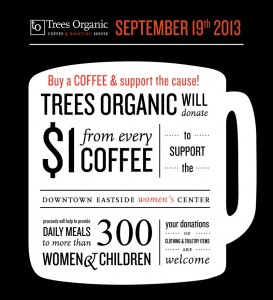 As a Vancouver cafe serving up organic fair-trade coffee since day one, we've always been fans of the motto, "think globally, act locally". Once again, Trees Organic cafes are partnering with Cafe Femenino and the Downtown Eastside Women's Centre. On Thursday, September 19, Trees Organic cafes will donate $1 from every coffee, latte, cappuccino or other espresso-based beverage you purchase.
BUY a CUP OF COFFEE and FEEL GOOD ABOUT HELPING PEOPLE IN NEED!
Funds raised will go to the DEWC, helping them to provide meals for more than 300 women and children in Vancouver's Downtown Eastside.
The coffee you're drinking this month comes from some of the best growing regions in the world; through Cafe Femenino's partnerships with women farmers, we're also helping these women, their families and their communities to be sustainable and thrive. It's a win-win for our cafes, our customers and the people who grow the coffee beans that we love.
Want to help out a good cause even more? Trees Organic cafes are also collecting items of clothing and unused toiletries for the DEWC. We need your help to make a big impact.
Cafe Femenino Coffee Beans from Peru and Colombia
Coffee grown in this part of the world comes from some of the most majestic plantations anywhere, in a green land that looks magical in the morning mist. The Colombian coffee we're getting from Cafe Femenino has a heady aroma and rich flavour matched with medium body and acidity. Our Peruvian coffee beans have a lighter body that doesn't hold anything back when it comes to flavor — see if you can detect hints of chocolate. Amazing stuff!
Cafe Femenino is helping communities around the world to earn a sustainable living through their coffee growing collectives. Running a successful social enterprise and having fair-trade income has helped participating women to have their voices heard in their traditional rural settings, improving their lives and giving their families hope.
Trees Organic Cafes: Helping Communities Wake Up to a Better World
Trees Organic Coffee & Roasting Houses has many cafes around Vancouver and Richmond for you to participate:
Granville – 450 Granville Street (near West Hastings St.)
Gastown – 321 Water Street (near the Steam Clock)
Yaletown – 1391 Richards Street (at Pacific Street).
Kitsilano – 2655 Arbutus Street (near Broadway St.)
Richmond – 7700 Minoru Gate (Richmond Public Library)
Visit one of our cafes. Your purchase can help make a difference.
For more information about DEWC, call 604-681-8480.