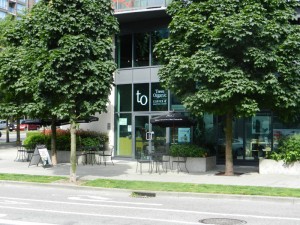 Yaletown in downtown Vancouver is a popular urban community featuring some of the most trendy shops, restaurants and of course, our cafe at 1391 Richards St. (right near the corner of Pacific Street). Trees Organic moved in here just as Vancouver's focus on livability really hit its stride, becoming part of the Yaletown neighbourhood as more and more residential buildings going in to revitalize what had once been an historic warehouse district. Now it's not just a great place for locals and tourists to enjoy a latte as they wander past the old brick buildings and cobblestone pathways — it's a great place to live, too!
Our Yaletown Trees Organic cafe Manager Michael Bergenheim has been giving out great coffee and service with a smile there for 3 years; he has seen this area transform up close! We chatted with him recently about what makes this spot special: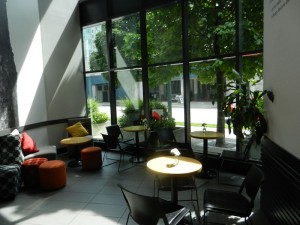 Q. What makes the Yaletown location different from our other coffee houses?
Bergenheim. A lot of our customers are intrigued by the interior design. The big tree image on the wall, accentuated by the potted plants and a sleek, contemporary look give it an eye-catching feel that's a great fit for this trendy neighbourhood!
Q. You've really become an organic part of the neighborhood, haven't you?
Bergenheim. Absolutely. There are a lot of residential buildings around here and a lot of the people who live in them are our regulars who love our coffee. Of course, there are also a few businesses around here and up the street; their people like to come in for coffee before the day gets started, or to hold meetings here. As well, there are a lot of professionals who work from home but often need a change of venue — they'll come in and hook up their computers to our free wi-fi and work from here. And I can't forget the students — they'll come in and read books or catch up on their homework over a cup of coffee and some cheesecake, or come in for lunch and have a sandwich. It's a real mix, coming from what is one of this city's most liveable neighbourhoods.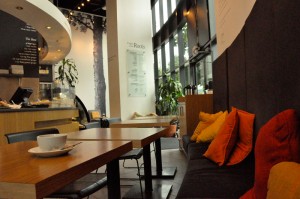 Q. You've got enough room here at this long table to accommodate a larger group as well. Do you get many big groups?
Bergenheim. We do get some bigger groups that come in here, not just for meetings but for social gatherings and special events. We also have a regular meetups at our cafe, like the Just Write meetup group — they'll come in, enjoy their cheesecake, write, talk and just be creative. Any group that wants to schedule their own meetup here is welcome!
Q. It must be exciting watching how Yaletown has been developing all around the cafe.
Bergenheim. We're always seeing new buildings going up. For instance, behind us is the Mark, which is a beautiful new tower for the area. We'd like to extend a warm welcome to our new neighbours and more neighbours to come! Drop in and check us out for our coffee, cheesecake and friendly service!
Have you been to our Trees Organic cafe in Yaletown? Enjoy all of our café locations at Granville, Gastown, Yaletown, Kitsilano and Richmond and tell us what you like about them!