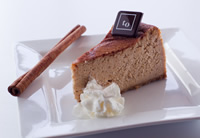 This October and November, you can enjoy our Pumpkin Spice Cheesecake, Pumpkin Spice Latte, Brown Sugar Cinnamon Latte and Chai Latte at Trees Organic cafes — with seasonally-inspired flavours that we've all loved since our childhoods.
Our Pumpkin Spice Cheesecake is rich and creamy, with subtle tastes and textures of fresh from the country harvest. If you've ever wondered about the difference between pumpkin pie and pumpkin spice cheesecake — well, here's your chance to try a treat worthy of the Great Pumpkin (you know who you are, Charlie Brown fans). It's served up with a little splash of whipped cream and a sprinkle of cinnamon.

On a cool Autumn day, there are few treats more comforting than taking a break in a warm cafe, among friendly coffeehouse folks, sipping on a tasty seasonal latte. We invite you to come down for one of our open mic nights or live music nights, take in some home-grown entertainment and enjoy this season's special offerings.