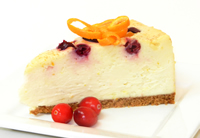 From Vancouver to Richmond, our new featured cheesecake and beverage at all of our cafes through the holiday season have bold, colourful flavours. For a limited time, enjoy some one-of-a-kind treats from your favourite coffeehouse.
Cranberry Orange Cheesecake. Full of Festive Flavour!
Our delicious Cranberry Orange Cheesecake has the holiday flavours you know and love – zesty orange, tart cranberry, and a gingerbread crust! Our baker has gone all out with this treat, created in-house from the finest ingredients. Order it by the slice or get a whole cheesecake in the size you like for your family, or a festive gathering!
Even more good news on the cheesecake front: we're giving you more seasonal favourites you've been waiting for, with Chocolate Orange Cheesecake. When we get into the holiday spirit, we don't hold back!
Naturally, we're also continuing to serve up a full slate of our popular cheesecake flavours that you know and love, from the Sin (chocolate and cherry) and Maple Walnut to Mocha and Key Lime. Yum! Pre-order your cheesecake to share with your favourite people.
Peppermint Mocha. Treat Yourself to a Holiday Drink with a Peppermint Kiss!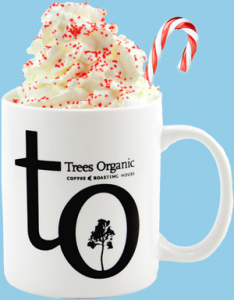 Who doesn't love peppermint at this time of year? This beverage has got the seasonal stamp of approval from our coffeehouse customers and baristas alike. Hot, sweet and filled with flavours that are sure to get you into the holiday spirit, with enthusiasm to spare. Drink up!
Holiday Gift Idea. A Gift Card from Trees Organic! You know your family and friends will use them, on anything from our regular drip coffee to lattes, coffee beans, cheesecake, muffins and more! Load it up at our till and spend as you like for maximum convenience.