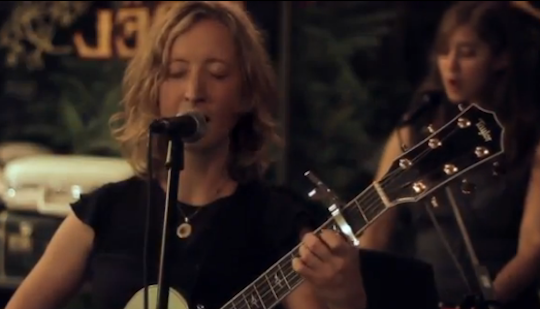 If you're thinking of checking out one of Trees Organic's live music nights at our lively coffeehouse on Granville Street in February, you'll want to be there for a band that "takes you by the hand — but also takes you by surprise." Familiar Wild is a Vancouver band with a distinct sound, switching off between orchestral folk and melodic pop. You might have heard their music already on CBC television, festivals and Vancouver music venues like the Rio and the Biltmore Cabaret — and now you can give them a listen while enjoying your favourite cheesecake and coffee combo, on Valentine's Day, February 14 (the lineup also includes Dana Sipos and Kevin Husband).
We caught up with Familiar Wild band member Melissa Bandura to get the story behind their music.
TO. What's new with Familiar Wild?
Melissa. We released a CD this fall, Dark Dreams, and went on tour this year. We've been playing around Vancouver while we record our next EP.
TO. What would you say makes your music different?
Melissa. Audiences just really like our melodies. I studied violin starting out, so when I'm creating a song, I don't start by playing with chords. I start with melodies. That makes the music more free-flowing in it's rhythm. I guess it's a cinematic type of song structure.
TO. How did Familiar Wild get its start?
Melissa. The band met in interesting ways. I met Melissa Hammer in a mariatchi band. I pulled in Kenton Weins from an old project (Lily Come Down) and met Aaron recently in T. Nile's band. You'll be hearing a duo at Trees: me and Melissa. She plays trumpet and I play violin. She's just an incredible musician. We liked each other's styles from the beginning and it was a natural fit!
TO. What's different about playing in front of a coffeehouse audience like at Trees?
Melissa. We've played at the cafe many times and I love that as an audience member, you get to see the artist up close — there's no barrier between the musician and the audience. The expectation is that the audience is there to listen, but not just to the music. You can talk between songs and give a little context. We're in an era when pop music is less of a staple and indie music is becoming more popular — and audiences want to connect with the story behind the music.
TO. What's next for Familiar Wild?
Melissa. That next EP is going to include more electro-elements. That will be different. Also, if fans check out the Familiar Wild website, they'll get to see more videos in the next few months of us playing our music. Hope you enjoy it!