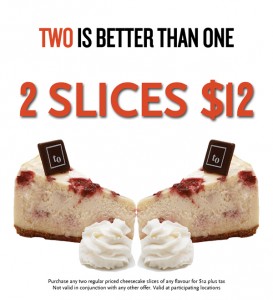 We're kicking off 2014 with a delicious deal for fans of our famous cheesecakes: 2 Cheesecake Slices for just $12 (valid at participating cafes)! Drop by in the evening and indulge yourself (and a friend?) in one of Vancouver's favourite desserts.
Come into our Granville, Yaletown, Arbutus, or Richmond cafes after 5 pm any day this month and you can enjoy any 2 slices of cheesecake, mixing and matching any two slices of our big selection of delicious cheesecake flavours. (Of course, you can always get two slices of your favourite cheesecake flavour — you can never have too much of a good thing. Yum!)
Which 2 Cheesecake slices will you choose? Mocha and Blueberry? The Sin (chocolate and cherry) and Key Lime? Raspberry White Chocolate and Maple Walnut? Whichever you choose, our cheesecakes are perfect for sharing. They make incredible after-dinner desserts (or anytime desserts for that matter). Keep in mind that you can always order a cheesecake to go — and you can always order a full cheesecake in 6″, 8″ and 10″ sizes to take home for a birthday or special event.
Warm Up with a Hot Apple Cider
We know January can be a chilly month in Vancouver (and you probably used up all your vacation time two weeks ago). Not to worry — stay toasty with our Hot Apple Cider, a seasonal treat that will help keep you warm and feeling fine! Enjoy one with a slice or two of cheesecake — actually, they go well with everything in our cafes, from our muffins, sandwiches and scones to our cookies and more!