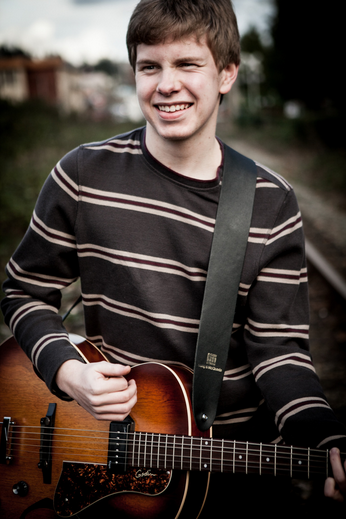 For your musical entertainment, Vancouver singer-songwriter Eric Hadley performs live at our flagship Granville coffeehouse along with Kirk Wohlgeschaffen and Faith Numada this Friday, Dec. 20 starting at 8 pm. These coffeehouse live music nights are a great way to experience the amazing talent in this city — all while enjoying your favourite coffee and cheesecake in a casual atmosphere.
Who is Eric Hadley? We interviewed the musical prodigy, who has just turned 16, to learn more about him, his music and what our cafe-goers can expect on Dec. 20.
TO. How would you describe your music?
Eric. I've been brought up on the Vancouver music scene and my music reflects what I've heard. I listen to a lot of blues and folk music on the local scene. At heart, I'm a West Coast singer songwriter, with a folksy kind of vibe. I guess I'm better known for playing slow, melancholy songs. Some say I've got an old soul. This Land I Know is a good example of my style — whoever shows up will hear a version of that December 20.
TO. What do you enjoy most about your music?
Eric. The songs I write can take on forms of their own that I don't necessarily expect when I'm writing the song. For instance, I recently performed a song with a brass quartet. That's not how I wrote the song, but that's how it went — and it sounded great. Live music is such a cool thing, where it's constantly changing in fun and surprising ways.
TO. How would you describe the live music nights?
Eric. I'm probably the biggest fan and have been going to them for a very long time because of the terrific atmosphere. Of all the places I play, by far it's the best crowd. John Pippus has really created a lively and welcoming community there. And did I mention the cheesecake? Great times!
Check out Eric Hadley, Kirk Wohlgeschaffen and Faith Numada this Friday, Dec. 20 at Trees Organic!