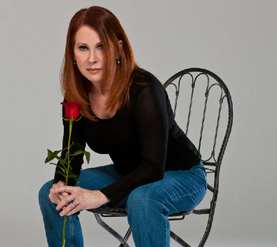 We've hosted plenty of the most talented musicians around Vancouver and beyond at our live music nights at our Granville Street cafe — but we've got a special performer next month that's not to be missed: Deborah Holland is a singer-songwriter who has played with some of the biggest names in music; with Police (yes, those Police) drummer Stewart Copeland in the hit band Animal Logic, as well as other top talents like Jackson Browne, David Lindley, George Duke, Steve Howe and Freddie Hubbard. She's released two albums with the Refugees, alongside Cindy Bullens and Wendy Waldman. She's played for audiences all over the world, often in front of thousands of music fans — and at our cozy cafe this May, she plays for you.
We caught up with Deborah to talk about her music and her move to Vancouver — a big change for this soulful American music artist.

TreesOrganic. How has your music evolved since you first started playing music live?
Deborah. For one thing, my lyrics have gotten better! Back, when I started, I mainly wrote songs about falling in love or having my heart broken. My songs today are more about life — and life's struggles. Love is part of that still sometimes, but in these songs, it's like I'm giving advice. But it goes beyond that: for instance, the first track on my new CD is "I Want to Be a Canadian!"
I'm also focusing back on my roots of being a singer-songwriter. My songs are more acoustic now. I'm not performing with a rock band anymore, so it's more about folk roots, Americana… That kind of thing.
TreesOrganic. Who are your biggest influences when you're writing a song?
Deborah. I've been inspired by so many musicians. The first ones that come to mind are fellow singer-songwriters like Joni Mitchell, Paul Simon, James Taylore and Sloan Wainwright, but I listen to everything. I'm not someone who believes music was better in the 1960s or 1970s — I can appreciate new sounds. Maybe that's because I've studied all kinds of music as well, from classical to jazz, blues, country and everything in between. On iTunes, I'm listening to Frank Turner's new record, Cecile McLorin Salvant — and tonight, I'm going to see the Drive-By Truckers, an alt-country and southern rock band perform live. I love almost everything — except death metal (laughs).
Trees Organic. You're not originally from Vancouver — what's the local music scene like for you? What's the city like?
Deborah. I've been in Vancouver for three and a half years now, moving here from L.A. I love that the air is clean, the city is beautiful, the people are nicer and it's easier to have access to cultural events. In some ways, it's like a small town, but since there's a limited number of things to attend, they're all super-high quality. I'm going out more now than I ever did in L.A.!
TreesOrganic. After so many performances on stage, what gets you excited?
Deborah. I love playing for an audience that listens — that's there to hear the music. Other than that, I don't care if I play for 10 people or a few thousand. I think the audience at Trees will be entertained — plus,Trees has the best cheesecake in town! What could be better than hearing great music and eating cheesecake?
Check out our Thursday open mic and Friday live music nights at our Granville Street Coffeehouse location!