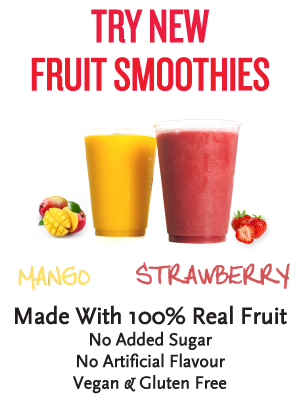 Need to chill out as the season warms up? Try an all-natural Fruit Smoothie (mango or strawberry!) or Cappuchillo from your nearest Trees Organic cafe!
You know and love us for our organic coffee and top-voted cheesecake — but we also like to serve up some cool fun for the spring and summer. Whether you're chilling out on our patio or bouncing along the street with your best friend, it's a perfect time to enjoy one of our tasty new beverages.
3 Reasons to Try (and Love) our Fruit Smoothies
We make our smoothies with real fruit. Made from 100% pure fruit with no added sugar, artificial flavour or colour.
Healthy and safe for everyone! Gluten-free and vegan friendly. You get 4 full servings of fruit in every smoothie.
Real fruit taste. It's a yummy, refreshing drink on a hot day.
And More Reasons to Try (and Love) our Cappuchillo
You deserve it! Indulge yourself with a tasty treat.
All natural ingredients. No weird-sounding additives or preservatives. All good stuff in a yummy frappe.
Smooth, refreshing, rich frappe flavour. Whether you're a sophisticated customer or a youngster who deserves something sweet and special, you'll love it.
Try something different! Order a real Fruit Smoothie or Cappuchillo today!