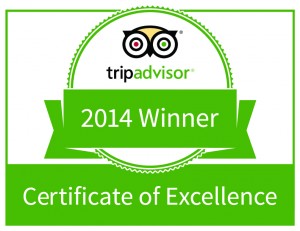 Recently Tripadvisor bestowed upon us a great award: the "Certificate of Excellence." This award is presented to businesses that consistently achieve high review ratings on the Tripadvisor website. So many folks have written nice things about Trees Organic in their many reviews. Thanks!
We have always paid close attention to feedback from our customers, including online reviews. We're very honoured to know that reviewers from all around the world have given us so much positive feedback that it has culminated into this great achievement.
Check out these sweet reviews:
VandMarion gave us 5 stars for the "Best cheesecake I've ever had"
"I love cheesecake and was just passing by Trees Organic when I saw they had a Maple one. It was actually a Walnut Maple Cheesecake and the best I've ever had in my life! That's all I had and would go back in a heartbeat!"
Tagen85 says our "Cheesecakes are awesome"
"We came to Trees for the first time in January 2013 on the recommendation of our friend. We loved it! The coffee was great and the cheesecakes absolutely divine! We ended up moving away from Vancouver but we returned in August 2013 along with my parents and we returned here to show them just how good the cheesecakes are and they were still as good as I remember! Great job!"
Then there's Worldwidelens, who checked out our Gastown cafe to enjoy "Great cheesecake and good coffee"
"Trees organic makes really good coffee, that is for sure. Their speciality is cheesecake though, on this, they are experts. The cheesecake is soft, sweet and delicious. You get a pretty big piece too, so be aware of that. A coffee and a cheesecake at Trees is a great treat. The shop on Water street is my favourite, it has big windows that open out onto the street and is in an old wood beam building…lovely! Go and enjoy!"
Thanks so much to our customers who aren't shy about sharing their positive experiences. We love hearing from you. Feel free to leave more reviews — or let us know how we're doing while you're in one of our cafes!