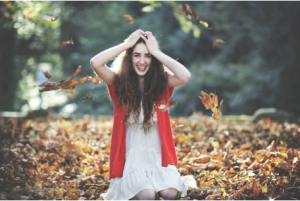 As usual, we've got some amazing musical lineups at our music nights at our flagship Granville Street cafe. This Friday, the talented Tessa Mouzourakis performs at our coffeehouse stage. Winner of the international musical competition, Your Voice in the Park for her video, The Kid in Me, this local singer-songwriter has garnered plenty of radio play and presence at local venues like the Mix and the Cellar night club. She's our latest coffeehouse musician profile.
TO. How would your fans describe your music?
Tessa. It's a blend of country, pop and folk. Emotion gets into the music, no matter what mix of genres I'm playing.
TO: You're 16, but you've penned over 50 songs [I don't think I created 50 of anything at that age 🙂 ]. What inspires you?
Tessa. The inspiration for all of my songs stem from my life. It can be an experience I had, a person I know or a book or movie that I felt especially connected to. But sometimes I just like to make something up.
TO: Your musical career has really taken off since you won the international contest Your Voice In The Park. What was competing in the contest like and how do you feel you've grown since then?
Tessa. The contest was an amazing experience for me and was my first real introduction into the music industry. I was so surprised when I won the contest because I was competing against other professionals from all over the world! Seeing my video on the big stage after Stevie Nicks was so rewarding, and helped give me the push I needed to fully commit to my music and pursue my dream.
TO. What's your favourite song to perform — and the story behind it?
Tessa. My favourite song to perform at the moment is called Gone Away and will be featured on the upcoming EP. I wrote it about this sudden urge I had to go away. I was tired of school and day to day life and just wanted experience something new and go on an adventure. I think the story really comes through in the lyrics and the instrumental part as well.
Check out the full lineup of performers this week at our Friday music nights for June — and don't forget to stop by for our Thursday open mic nights, where anything can happen!