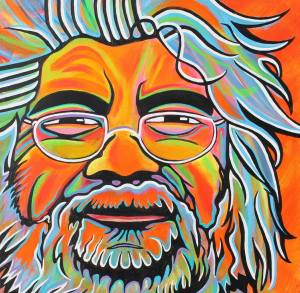 The Trees Organic coffeehouse has hosted plenty of eclectic musicians over the years, and next month, we have Doug Koyama, a unique performer who never fails to intrigue and engage his audience. When you come down to enjoy your coffee, cheesecake and other favourites as you listen in to this local legend, you'll be in for a real treat!
We interviewed Doug to get the story behind his music. Check it out —
TO. Improvised A Capella music with a loop pedal — how did that come about? What inspired you?
Doug. In December of 2009 I was working on a play with Kersley Musical Theatre, south of Quesnel where I'm from as well as a variety show that we produced each spring. The director brought David Hatfield from Vancouver to Kersley to facilitate a workshop on Improvised A Capella singing. David taught us that the two things we needed to remember: 'Make a sound, keep going.' What followed was an amazing weekend where 24 of us worked with interlocking vocal patterns and rhythms in an amazing workshop that changed my life.
After it was done I really wanted to sing with people, so I invited everyone to come to my house and sing. Then I started looking for ways I could sing in a multi-voice environment by myself. I found out about loop pedals and bought my first one.
I was inspired by the magical thing that happens when a number of voices join together. When you ask a group of people, any size group, to sing a single note in unison it makes the most amazing, living chord that is always beautiful.
TO. How has your music evolved since you started?
Doug. I feel like my music is the aural manifestation of the energies present in the place it is created, filtered through my personal experiences and preconceptions. I think that it evolves each time I perform.
I regularly perform at a popular open mic in Vancouver that is notorious for being a really loud room where people talk right through the performances. I sometimes step onto the front of the stage, without the mic, and sing one song A Capella to open. I put my intention firmly into getting everyone to pay attention and they do. When I sing that way the whole room stops and listens.
TO. Why use "invented language" in your songs?
Doug. That comes from the workshop with David in 2009. It was used to help encourage free improvisation. The core idea is to not think too much about what you want the next sound to sound like and just allow it to be and become whatever it wants to be.
Even though many songs feature invented language, there is always an idea or message behind every song. I sing about love, and loss and relationships and I think that comes through.
TO. Can you tell me the stories behind some of your songs? What's the concept behind Hillcrest?
Doug. Sometimes the name is reminiscent of something I heard in the song. Sometimes it's just a feeling. Hillcrest was the name of the street my sister lived on, for instance.
TO. You're a well-loved fixture on the local music scene. How did you get started — and where do you see yourself going next?
Doug. Thank you for that, I take it as a great compliment. I love music and I love making music and I think that comes out in my performance. I started booking little spots, anything I could get really, in 2011. Since moving to Vancouver last month I find it impossible to not go out almost every night as there is always something amazing going on. I love to go out and support my friends when they play.
I know the truth is that in order to "get", I have to "give". So I give as much as I can. I spend a lot of time supporting the creation of music and music festivals.
I don't know where I'm going next. I used to have these lofty goals of touring with so-and-so or playing on such-and-such a big stage but right now i'm focussed on making this moment, the one right here before me, the best moment it can be.
Check out upcoming performances on our schedule of live music nights for December!