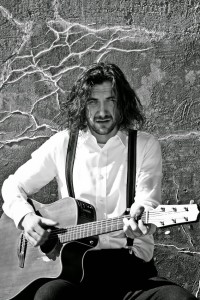 This February, we're still serving up some amazing coffeehouse musical entertainment along with our award-winning cheesecake and organic coffee beans. One performer we're especially looking forward to hearing live is Cameron Hawes, a talented pop, blues and folk-influenced performer from the east coast (They sure have more than their fair share!). We caught up with Cameron and got the inside track on the music and the man. You can see him perform live at our Granville Street cafe on February 20th at 8pm.
TO. You've been working on an 11-song album. Can you give us any details? What's inspiring you this time out?
Cameron. I started this album in Halifax after I released my 6-song EP, 'The Holy Grail'. I've been on a constant mission to find truth and connections in life.
In this album I sing about nature and communication, love and subtleties, and the face we wear on top of it all. The album has a bit of a funky vibe for rhythm, lyrically-driven with a folk and even pop influence.

TO. Coming out here from Halifax, what's your impression of the west coast indie music scene?
Cameron. So far I love it here in Vancouver. I'm used to solo camping trips in Nova Scotia, but upgrading to mountains and massive forests has been a huge plus for me. The music scene here seems great so far.
TO. What kind of response have you gotten from the Holy Grail EP? How has your music evolved since then?
Cameron. The Holy Grail is a project I did with Matt Stevens. It wasn't supposed to be a 6-song project, just a random free recording for a student looking for experience on kijiji.ca. Matt turned out to be exceptionally talented and everything clicked. We whipped up the EP using songs I had written in the past and a few new tunes following a theme of being present and generous as a way to balance wealth and happiness. The reaction to the EP has been great. One of the songs titled, 'Angel', was signed in a publishing deal and later a licensing deal for reruns of the hit show, 'Without a Trace'.
The next album is definitely more consistent in terms of genre and content. I learned a lot putting the first project together, so I feel like the lyrics, music, consistency and product will be next level.
TO. What's it like performing life in such an intimate setting, like our coffeehouse?
b. I love performing in small settings the most because there is always a lot more communication involved. It's nice to be close enough to the audience to see the expressions on their faces. Usually you feel a real connection in smaller venues. I'm very excited to perform here.
Check out live music at our Granville location every Friday night. Open mic nights are Thursday — and both weekly events start at 8 pm!