On Friday January 23, treat yourself to 1/2-price cheesecake slices at our Kitsilano coffeehouse!
We're celebrating our 2-year anniversary of opening our location at 2655 Arbutus Street near Broadway, in the heart of Vancouver's Kitsilano neighborhood.
Get a slice of your favourite: New York, Mocha, Maple Walnut, Key Lime or any of our other classic cheesecakes in store, for as long as supplies last! Better yet, get two slices for the price of one!
We're especially grateful to our neighbours in Kitsilano who have shown so much hospitality and loyalty to our cafe. This is an amazing place, where every day we can see young families, friends, students and tourists from all over the world come in our doors. The vibe here is always mellow and friendly. In our 2 years in the neighbourhood, we can really say we felt like we belonged from day 1 — and we're happy to return that hospitality.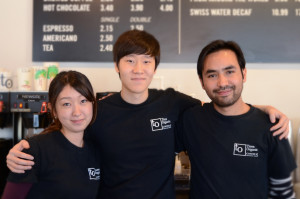 Come in and enjoy a coffee and cheesecake in our cafe, or take it to go to enjoy after a relaxing walk down to Kitsilano Beach. Celebrate the anniversary with a tasty treat!