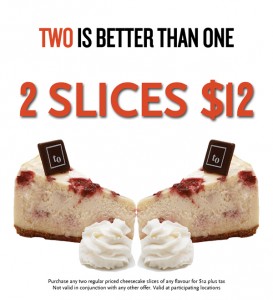 Which cheesecake flavour is your favourite? Our deliciously creamy New York cheesecake? Sweet blueberry? The decadent Sin cheesecake, with Belgian chocolate and sour cherries? Chocoholic, for the serious chocolate lover? Maybe you've been wanting to try one of our flavours — and now it's easier than ever to choose. This month at participating Trees Organic locations*, get any 2 slices of our award-winning cheesecake for just $12 plus tax, from 5 pm until closing every day.
Can't eat all that cheesecake by yourself? Bring a friend, romantic interest or someone you think deserves one of this city's tastiest treats! Or get one slice to enjoy now — and one to take home for later!
*(Promotion valid at Trees Organic cafes at Granville, Yaletown, Kitsilano and Richmond).