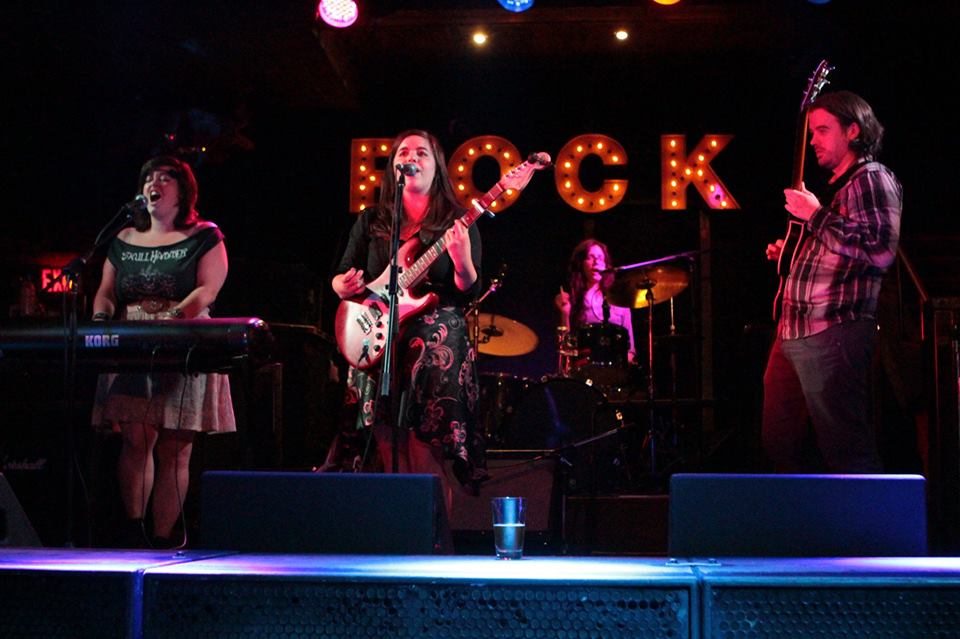 Vancouver-based Sound of the Sun is this month's musician profile for our Friday night live music series. Sound of the Sun will be performing on the live music evening of April 29 at Trees Organic Coffee & Roasting House on Granville Street.
Seah Maister, Jenna Earle and Karli Rose MacIntosh formed their band in 2009, but their friendship and music started much earlier. They grew up in the Kootenay region of B.C. Karli and Seah have been friends since they were in their early teens, while Jenna and Seah went to Selirk College for the Contemporary Music and Technology program. After various projects together and separately, they wrote their first song in 2006 and decided to relocate to Vancouver where they started to develop their unique musical style and their band, now known as Sound of the Sun.
Today, you'll find Jenna as the lead guitar, Seah on the keyboard and rhythm guitar, and Karli on percussion and drum set. They refer to their music as West Coast Art Rock which is a fusion of rock, folk and blues, alternating between acoustic and a full electric sound. Since moving to Vancouver, Sound of the sun has been busy writing music, attending festivals and performing their original material (and some covers) in Canada, as well as in the U.S. Their second home base is Santa Barbara, where they spend time at the Jasmine's Alternative Music School, named in honour of Jenna's cousin, Jasmine, who passed away at age 9. While in California, they played benefit concerts and ran clinics, as well recorded their first EP entitled World's Smallest Front Yard (2013).
Other projects also fill their time. Because of their harmonies, they've provided background vocals for multiple projects including Jean Michel Byron (former lead singer of TOTO), local Vancouver project's Trailight, and Kathy Frank's blues review. Currently, they are focused on writing material and preparing to record their full length album with Garth Richardson (Rage Against The Machine, Red Hot Chili Peppers, and Biffy Clyro) at his new studio in Gibsons. A tour in B.C. is also in the works for this August; but before that, you can catch their live, acoustic performance on April 29 at Trees Organic Coffee on Granville Street.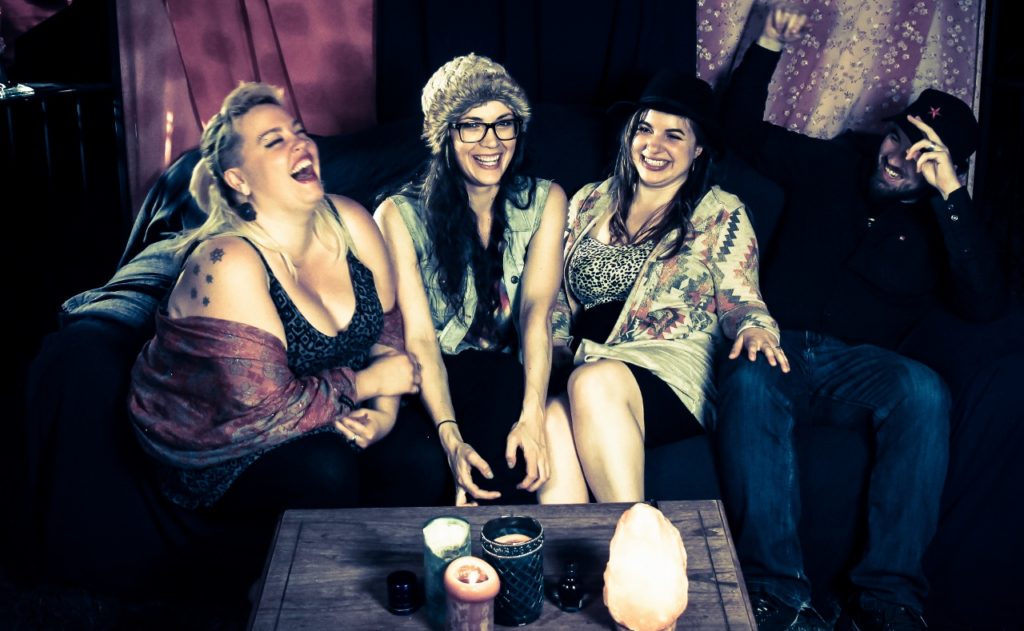 Photo Credit:James Randall Smith.
In conversation with Sound of the Sun
TO. What is the story behind the name of the band?
Sound of the Sun. Originally we started out with a different name, Sometime After Sundown. But after a few years of people never remembering our name – calling us things like Something About a Sunset etc. – we decided we needed to find something more memorable. When we were trying to come up with different names (and had written down a slew of different words and phrases) our former bass player, Tim, looked at the list and just said, 'what about Sound of the Sun?' And it just kind of made sense, so we went with it!
Over the years we've had many comments about how our music is like musical reiki, or that it's healing and has gotten a few people through some tough times. Recently we discovered that the actual recorded sound of the sun resonates at 432 hz (the sound of ohm) which is the frequency that the earth and universe resonate at. So all of a sudden the name Sound of then Sun gained new meaning for us.
TO. How would you describe the band's signature sound?
Sound of the Sun. Harmonies!! We are all about the harmonies. We choose to layer them over a groovy west coast art rock style. We are heavily influenced by bands like Crosby Stills and Nash, The Beatles, The Eagles, Fleetwood Mac, Fleet Foxes, Beach Boys, and The Doobie Brothers. We get crazy amounts of inspiration from these bands, not only from their amazing vocals but from their songwriting, and ability to tell a story in 3 minutes. Our signature sound is a combination of that and our modern heavier influences, including Queens of the Stone Age, Opeth and Tool.
TO. What is your songwriting process?
Sound of the Sun. We all write individually, and together. A lot of the time, someone will come to the group with an idea, and either two of us, or all three of us will sit down and build off that original idea. Every now and then, someone will come with a completely finished song that we all get to add our Sound of the Sun spin to. The songwriting process in our band rocks! We all take turns taking the lead, and we get do most of our writing in a blanket fort these days! We write about what we like – Sunshine, the ocean, trees, mysteries, whiskey, tequila, and happiness.
TO. What type of music will be featured on the new album?
Sound of the Sun. This album is going to try to capture our signature sound as best as we can. We are working on living room recordings for half of the album to capture our more organic acoustic side. And for the other half, we plan on working with producer Garth Richardson. With his help, we will hopefully end up with a record that is equal parts acoustic and electric. Heavy and beautiful, distorted and ethereal. Just like us. The songs featured on the album are a collection of our favourites written over the last six years. These songs feature stories about love, California, music, pirates, "rulers of the mountain villages kickin' ass", and Tequila.
TO. For the next 1 – 3 years, what are the main goals for the band?
Sound of the Sun. Our main goals are finishing the album and start touring. As far as we possibly can. We hope to do a full Canada tour as well as tour down the California coast. We also hope to play more festivals! We got our feet wet in the festival circuit a couple summers ago and can't wait to get back on it.