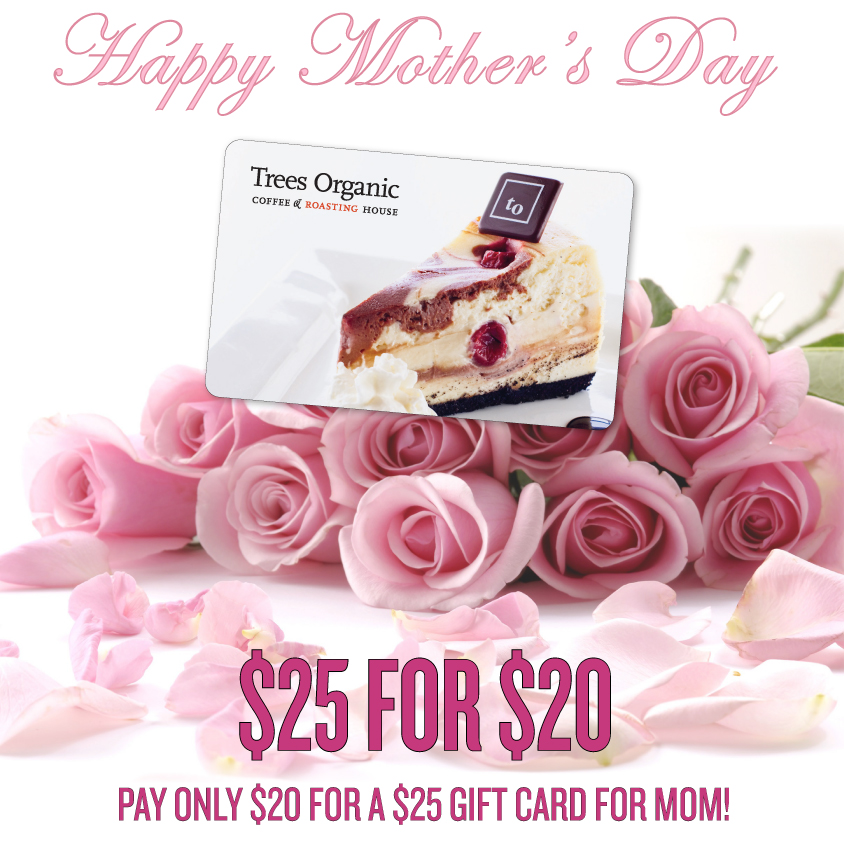 In honour of Mother's Day, we're pleased to offer a special on our Trees Organic Gift Card from now until May 8th, 2016. Buy a $25 gift card for just $20 at participating Trees Organic Coffee locations.
Whether you're a mother or wanting to celebrate a mother, the gift card is a versatile gift that provides you with ample choices. Let mom be spoiled by whatever she wants with a gift card that she can enjoy for coffees, cheesecakes, teas, baked goods, lunch and more. You can use the gift card to spoil mom with a whole cheesecake in her favourite flavour. Or, take the opportunity to make mom feel special with some sweet together-time enjoying coffee and tasty treats at any of our cafes.
Trees Organic cards have no expiry dates and can be reloaded and reused. Don't forget to register the Trees Organic Card for balance protection in case of loss or theft and extra perks. This time limited Mother's Day Special is valid on new card activations only and cannot be combined with any other promotional offers. Participating Trees Organic Coffee locations are Downtown (Granville Street), Yaletown (Richards Street) and Kitsilano (Arbutus Street).
This Mother's Day, don't be lost for what to get the mothers in your life. Give a fun thank you with our gift cards and take advantage of our special offer. Happy Mother's Day!