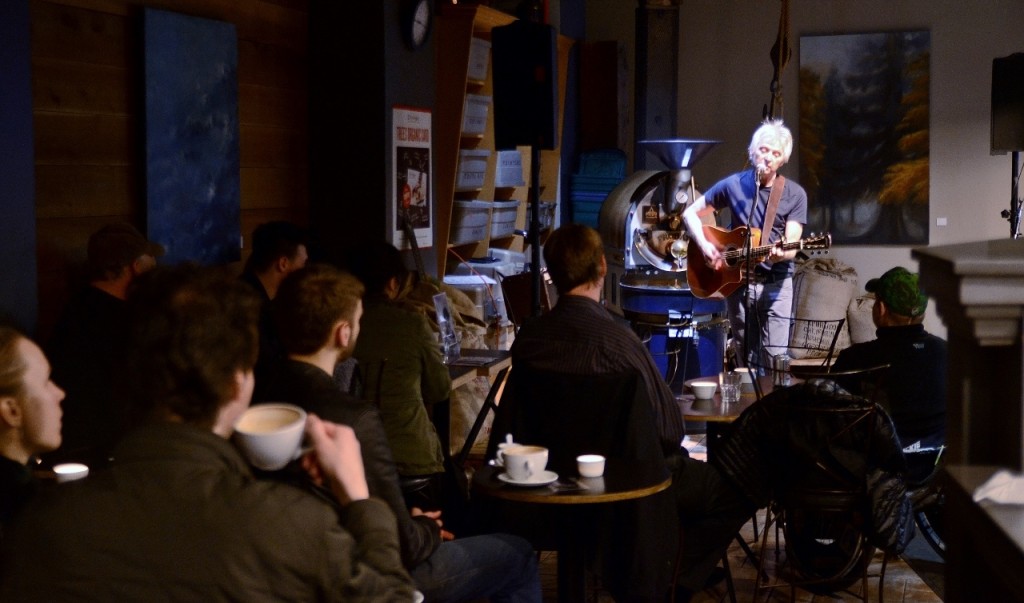 After 11+ amazing years, John Pippus is retiring from booking and hosting the Friday Live Music nights at our cafe on Granville Street. From all of us at Trees Organic Coffee, we thank John for his tremendous contributions to our music nights and his support of the Vancouver music community!
His final bow is on Friday June 30th. It will be a special evening of music with John taking the stage, along with guest performances from various music friends. Everyone is welcome to join the fun! See event details here.
Back in 2006, John took over hosting duties for the live music night from Carley Rae Jepsen. From there, he grew and fine-tuned the music night into a successful weekly program with Open Mic on Thursdays and Live Music on Fridays. Both events are consistently packed, having garnered a loyal community of performers and fans from Vancouver and beyond!
With the events going stronger than ever, John is pleased to pass the torch to fellow singer-songwriter and friend, Marq DeSouza! Marq is already hosting the Open Mic nights and is a natural choice to take over the Friday Live Music nights.
As a wrap-up of John's legacy at Trees Organic Coffee, we asked him to share some of his music night memories and upcoming plans. And, we've included Marq's perspective on the continuation of the popular event nights.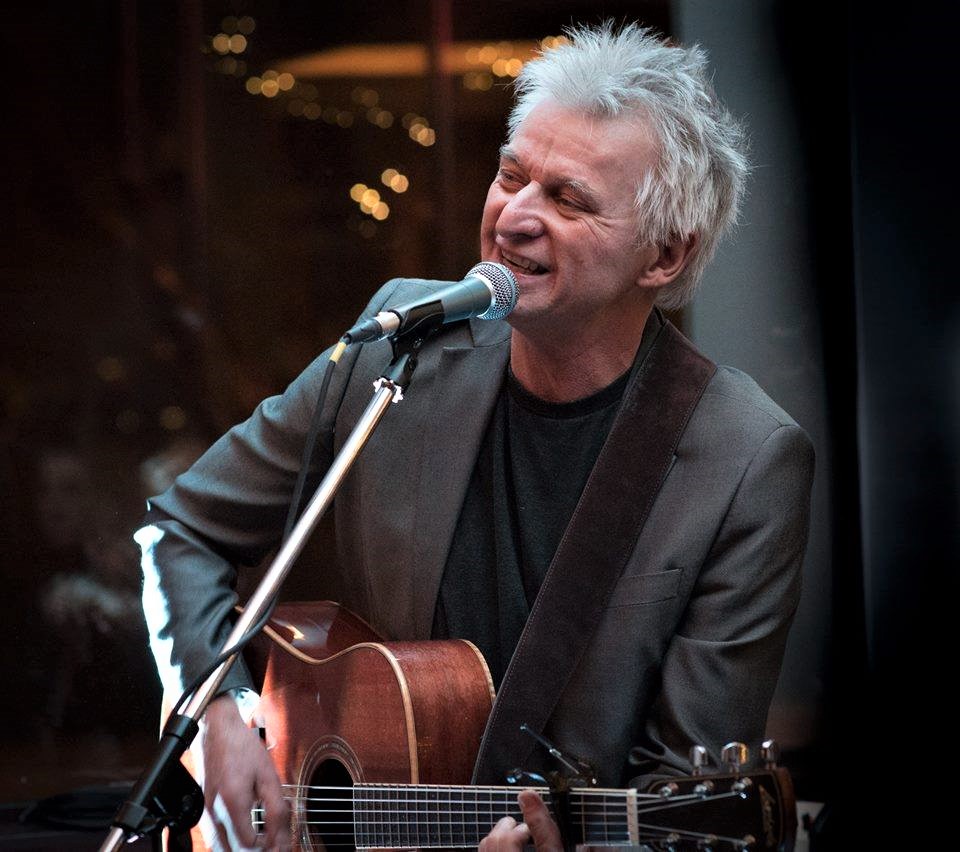 In conversation with John Pippus
TO. How has the Friday Live Music night evolved?
John: Within the first year, the nights started to find their own momentum. Word of mouth helped and we started to build up a small but loyal group of regulars. Also, the caliber of talent was raised as the years went by. I was able to be more selective as more performers were asking to play. I think, technology has helped. As a music booker, I want to see a live, performance video to judge if the act will be a good fit. It's so easy now for performers to post something online. Ten years ago, it was all about Myspace, and nobody had a video.
TO. What was the biggest accomplishment?
John: Building a steady clientele has been rewarding. The comments from some in the audience saying how much they enjoy the music and ambience are always nice to hear. Just keeping this going when so many other venues try and then fail to support live music is an accomplishment. I credit Doron Levy and the various managers over the years who have always been so supportive at Trees.
TO. What did you like most about the live music night?
John: I like hearing new talent that moves me in some way. Or talent that I've booked several times over the years and watched them improve. That's a real treat. And many times, most times in fact, that I've played there it has been rewarding. Getting an audience listening and being able to tell stories between songs, and through the song lyrics is a real privilege. I like standing at the mixing board and watching the faces in the audience getting lost in the music. That might be the best thing of all, knowing I'm providing the vehicle for the magic to happen.
And, a coffee shop is a wonderful listening venue. There are not many venues in the city where original music is encouraged and where the audience, for the most part, is there to listen. We don't write songs for ourselves, we want to share them with a receptive audience. Because Trees has no liquor license, noise is minimal. It's a coffee house experience like back in the '60s. Candles on the tables, an intimate venue where it's just the performer and the audience. The sound system works, the coffee and cheesecake are excellent, the staff is friendly. This sounds like an ad but it's true!
TO. Any notable or memorable performances?
John: First, I remember either specific moments within certain songs – a line or a melodic phrase I would hear that would give me chills and make me wish I wrote it – from a whole lot of performers. Some whose names I don't remember but their voices, lyric writing, or playing still resonate. Second, I have vague recollections of entire nights that are just sort of magical. Times when the performances AND the audience are in sync and it all just feels like a special and worthwhile evening.
TO. Which artists have played at the music night before gaining wider success?
John: First up is Carly Rae Jepsen. I never booked her but I took over the music nights from her, plus she was a barista at Trees. Wanting Qu, Hannah Georgas, Dan Mangan, and Adrian Glynn played there early on and have gone on to successful careers. Don Alder has done well in international guitar picking competitions. Nat Jay has done well with TV and movie licensing. Paul Reddick, from Toronto played at Trees a few years ago and recently won a Juno for best blues album, though he was already well established when he played at Trees. There are probably a few more that I'm forgetting.
TO. Has the music night helped with developing your own music?
John: By booking and hosting the music nights, I've made contacts for gigs, scored some pretty sweet tours, and met people who I've worked with in recording situations. And I've been inspired to write and perform better too from seeing what others are doing. I've learned guitar tunings from watching other performers. I'm using gear that I saw others using. Having this front row seat week after week has helped my own music.
TO. What are you working on and what's next for your music?
John: I've got a five-song album that was released earlier this year. That's been getting airplay around the world. I recently released 3 new video recordings. I'm also working with a Toronto musician, David Puzak, on an on-going recording project. We call ourselves the Sarnia Boys. We've recorded four or five singles, played some dates in Ontario and we'll see where that goes. Looking ahead, I will tour a couple of times a year. I just want to keep having fun and being challenged with my music. Whether it's playing solo or with my band, anything that keeps it fresh and alive is what I'm after. There's nothing else I'd rather be doing.

In conversation with Marq DeSouza
TO. Why did you want to host both the Open Mic and Live Music events?
Marq: I've been playing music a long time and it's easy to get jaded. I love giving a stage to younger performers who are just hitting their stride. Those are thrilling moments and inspire everyone who witnesses them, myself included. On the flip side, there are some veteran acts who shake off the rust to come back at full power and it's nice to be able to encourage them too. I've been in all those roles on the other side so in a way it feels like I'm giving something back.
TO. Why should performers want to be part of either night?
Marq: First and foremost, as John has always said, it's a 'listening' venue. It's nice to play to thousands, but if no one is paying attention then that's not really worth much. The audience we get is very respectful of the artist. I've played all around at all types of venues and Trees has always been at the top of the list for that. There's also a community that has been built there, especially on the Open Mic night. I've seen collaborations begin, bands formed, shows booked, and lots of friendships made. Someone new will come in not knowing anyone, but by the time they leave they have a roomful of peers.
TO. Why should people come out to support local talent?
Marq: A lot of people casually walk in not knowing that we even have music, and they are often surprised at the level of quality we're offering. Music is sort of taken for granted since you can hear it anywhere and anytime on your devices, but there's nothing like a live experience. Also, the Open Mic nights are more of an "anything can happen" scenario. We've had rappers, improv groups, classical musicians, and magicians on various nights mixed in with the music.
TO. Will you make any changes to the Friday Live Music nights?
Marq: John has fine-tuned the evening like a well-oiled machine. If it ain't broke, there's really no need to fix it. I just hope to live up to the standards of quality and professionalism that he has set over the years.
TO. What are you hoping to accomplish with the live music night?
Marq: John Pippus really deserves all the credit in the world for building the nights into what they are. If I can continue what he started and keep nurturing new talent while sustaining artists who have been around awhile, then that's good enough for me. Every week that goes by is another one in the books. More music, more songs, more good times for everyone.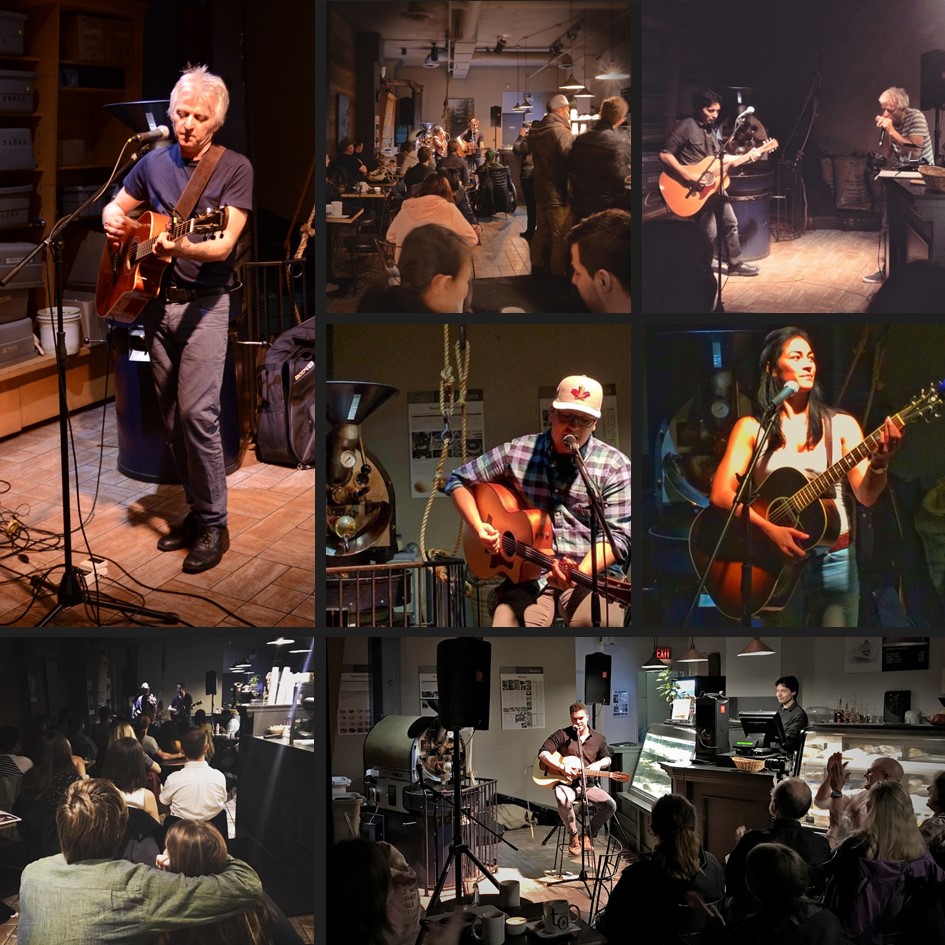 Images from Open Mic night and Friday Live Music night at Trees Organic Coffee.
Photo credit: @alldrops (middle), @afivancouver (middle, right), @greatatlasmusic (lower left)