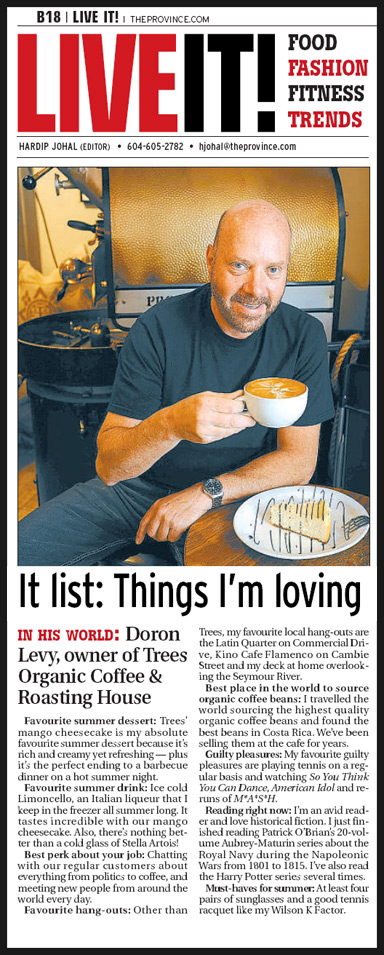 THE PROVINCE
June 25, 2009
It List: Things I'm loving
IN HIS WORLD: Doron Levy, owner of Trees Organic Coffee & Roasting House
Favourite summer dessert: Trees' mango cheesecake is my absolute favourite summer dessert because its rich and creamy yet refreshing – plus its the perfect ending to a barbeque dinner on a hot summer night.
Favourite summer drink: Ice cold Limoncello, an Italian liqueur that I keep in the freezer all summer long. It tastes incredible with our mango cheesecake. Also, there's nothing better than a cold glass of Stella Artois beer!
Best perk about your job: Chatting with our regular customers about everything from politics to coffee, and meeting new people from around the world every day.
Favourite hang-outs: Other than Trees, my favourite local hang-outs are the Latin Quarter on Commercial Drive, Kino Cafe Flamenco on Cambie Street and my deck at home overlooking the Seymour River.
Best place in the world to source organic coffee beans: I travelled the world sourcing the hightest quality organic coffee beans and found the best beans in Costa Rica. We've been selling them at the cafe for years.
Guilty pleasures: My favourite guilty pleasures are playing tennis on a regular basis and watching So You Think You Can Dance, American Idol and re-runs of M*A*S*H.
Reading right now: I'm an avid reader and love historical fiction. I just finished reading Patrick O'Brian's 20 volume Aubrey-Maturin series about the Royal Navy during the Napoleonic Wars from 1801-1815. I've also read the Harry Potter series several times.
Must-haves for summer: At least four pairs of sunglasses and a good tennis racquet like my Wilson K Factor.
Download PDF of The Province Article Featuring Trees Coffee