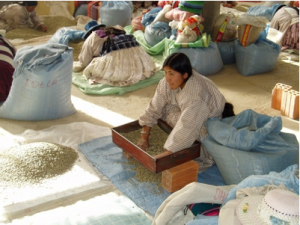 We are spreading the love and introducing you to a coffee that supports the Cafe Femenino Coffee Project. Make your coffee purchase matter!
What is Café Femenino?
The Café Femenino Coffee Project began in Peru in 2004, enhancing the lives of women coffee producers in developing communities around the world.
We pay an additional premium above the Fair Trade price that goes directly back to the women farmers, empowering them as entrepreneurs and giving them the ability to support their families and their communities.
This coffee is grown, harvested and processed by the AECAR Cooperative (Asociacion Ecológico de Caficultores el Rosario). They have about 90 women farmers participating in Cafe Femenino in Bolivia.
What makes Café Femenino different from other fair trade projects?
Many girls are now being educated. Prior to Cafe Femenino, it was common practice to educate only the boys in the family.
Families are slowly rising out of poverty and creating a better life because for the first time, women are in charge of their own money and their family's economics.
Within the Cafe Femenino model – and in the spirit of full circle philanthropy – roasters, retailers, and consumers are able to support women's centers in their own communities.
Part proceeds benefit Downtown Eastside Women's Centre
As a participating roaster in the Café Femenino project, Trees Organic is proud to commit a share of the proceeds from Café Femenino sales to the Downtown Eastside Women's Centre who provide basic needs and positive change for women and children of the Downtown Eastside of Vancouver. They provide practical support to over 300 women, children and seniors, every day.
Purchase a bag of Bolivian coffee beans from the Cafe Femenino project when you're at any of our Trees Organic Coffeehouse locations
Where is this organic coffee grown?
The shade-grown, fair trade, organic coffee from the Caranavi region is grown between 1,300 and 1,700 meters on small 3-hectare farms.
The Café Femenino farms are filled with lush coffee trees and mixed with mahogany, mandarins, lemons, oranges, plantains, and bananas. The coffee is manually de-pulped, then washed and transferred to raised drying beds.
Bolivia, Café Femenino
Cup Profile: Rich aroma, low acidity, smooth body, sweet milk chocolate flavour
Altitude: 1,300 – 1,700m
Type: 70% Criollo, 30% Caturra Arabica Variatals
Processing: Washed, sun dried
Produced by: AECAR & Union ProAgro co-ops, Caranavi region, Bolivia
Certified Organic & Fair Trade