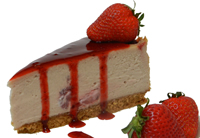 What goes better with one of our special coffee drinks than a slice of our rich, delicious cheesecake? More cheesecake, of course. We're delighted to announce that we've expanded our cheesecake menu to include all of our regular cheesecake favorites, plus a few seasonal items that are back by popular demand — including our feature flavor for June, Strawberry!
More Choices. More Cheesecake
Strawberry. It's berry-picking season and we're taking the best strawberries we can find to throw into our special cheesecake recipe. This is our feature for the month of June. Limited time only!
Maple Walnut. Maple syrup. Walnuts. Cheesecake. It's a Canadian dessert sensation.
Key Lime. Consistently one of our most popular seasonal cheesecakes, we've brought back this refreshing citrus-laden masterpiece.
Raspberry White Chocolate. Sweet, rich white chocolate balanced by tart raspberries. Incredible.
Chocoholic. Layers of dark and milk chocolate make for an over-the-top dessert sensation.
Still Serving Your Favorite Cheesecakes Every Day
New York. A classic, creamy cheesecake with a hint of lemon. A favorite of our regulars.
Blueberry. Another popular summer sensation with the freshest blueberries.
Mocha. Combining the flavors of our favorite ingredients, chocolate and coffee.
The Sin. Belgian chocolate. Sour cherries. Awesome.
Which one is your favorite? If you're not sure, there's an easy way to find out. See you in our cafe soon!