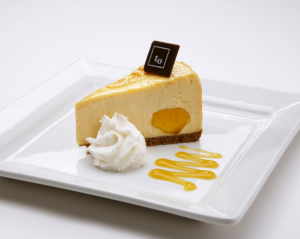 It's time to present our feature dessert for July & August, a summer tradition for Trees Organic: Mango Splash Cheesecake! Sweet, juicy and full of texture, mangos are an exciting ingredient for our bakers to work with, helping us create a moist and tropical-style cheesecake that will tingle your taste buds.
Mangoes are a pretty special kind of fruit and mango cheesecake is a perennial favorite of Trees Organic president Doron Levy: "Lots of people like to get a whole mango cheesecake to put in their freezer — then you've got a cold, delicious treat to enjoy in the warmer weather. Mango cheesecake is a lot like me: sweet, memorable and just a little exotic."
Our Mango Cheesecake is only featured through to August, so come and get your slice while you still can!
Mango Cheesecake is available in 6″, 8″ and 10″ sizes, or order by the slice.
Contact your nearest Trees location for pricing, availability and ordering.