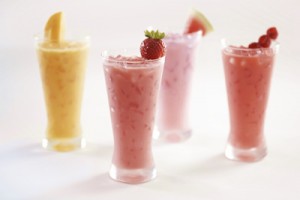 Italian Cream Soda is a refreshing experience and Trees Organic's featured drink all summer long. This creamy, fizzy, creamy fruit drink is a crowd-pleasing favorite – and we're offering it up in four flavours:
Raspberry
Strawberry
Watermelon
Peach-mango
What makes Italian Cream Soda special? "That one-of-a-kind smooth creaminess makes it like a good root beer that goes down better than a regular soft drink," says one aficionado. "It's a different experience for your taste buds — and once you've had it, you're going to want to try all of the flavours."
That sweet flavour and smooth, creamy texture is a great combination, but what really makes the Italian Cream Soda for us is the hand-crafted presentation. Mixing the ice, syrup, soda and cream and topping it off with a little splash of whipped cream can be an entertaining show – as much for us as our customers.
Drop in soon for a great drink to cool down on a hot summer day (yes, they've finally arrived, Vancouver!). It's smooth. It's different. And it has arrived!