Much as we love our organic coffee and specialty drinks at Trees Organic Coffee House, we love our baking just as much. Our in-house bakery is a busy place, baking everything from our made-from-scratch top-rated cheesecake to our yummy breakfast muffins, scones and other treats. We caught up this week with our baker Magdalena and talked about some of her favorite treats and where she finds her inspiration.
Listen to the complete interview with the head baker at Trees Organic
Talking about Delicious desserts baked from scratch in our downtown Vancouver cafe
What's your favorite muffin?
"It's so hard for me to choose. Let's see. My favorite would probably have to be the cranberry orange pecan. Someone actually told me last week that it tastes like pancakes (laughs). It tastes like fresh pancakes. I have to agree. It's really soft and buttery and delicious. It's not too sweet. It's quite a treat."
Fruit, on the other hand, can be a food of which there could be minimal discussion. Incorporating much more of the to your food plan is sweet in your case weight, very good on your entire body and very good on your temper. Pears are at the moment the trendiest among dietitians and with very good cause. chinese bee pollen For 3 times you might test to consume just about every several of many hrs using a balance of protein, carbs, fiber and further extra fat. You'll be proscribing energy but, rising top quality nutrition. You'll go on to maintain up with your workout plan.
What makes the cheesecake so special here?
"We do make our cheesecakes from scratch. All real ingredients going into it from local suppliers… The most special thing about our cheesecake is it's not as hard as your typical cheesecake. It's definitely a mousse-y kind of cheesecake. It's lighter than the old world cheesecake. It's not super-sweet. You still get the flavor, but it's not over the top sweet, so you can still taste the cream cheese in there. We actually offer nine different kinds of cheesecake, so no matter what kind of flavor you like, you'll find something you like here."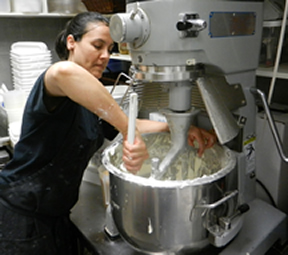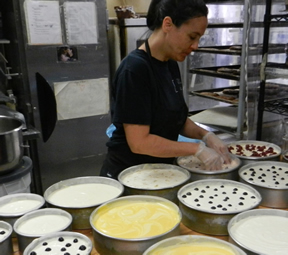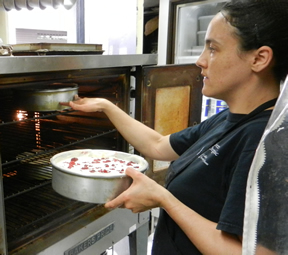 Why Mango cheesecake is awesome. A refreshing slice baked with fresh ingredients and love
"The wonderful thing about mango is that it has such a strong flavor. It really comes out. You don't have to add anything to it. We don't put artificial stuff into any of our cheesecakes."
Vegan dessert options? Our Vancouver cafe's got 'em
"Yes, there are options for vegans. We've got our vegan power bar, which is made with oats and banana, blueberry and seeds… It fills you up, tastes great and is very healthy. We also have our power cookie, if you want something sweeter but not quite as heavy."
Do you have a favorite dessert from Trees Organic at our Granville, Gastown, Yaletown or Richmond locations? Let us know.