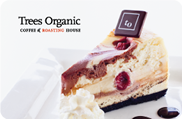 The holiday gift-giving season is upon us and you may be thinking "maybe I should get a present that I know they will actually use?" A Trees Organic gift card is the perfect purchase for your favorite coffee-drinking, cheesecake-eating, cafe-aficionado loved one, friend or co-worker.
More Reasons to Get a Trees Organic Card
It's a quick-pay convenience card for any of our 4 cafe locations (soon to be 5) in Vancouver (Granville, Yaletown, Gastown) and Richmond. No cash? No problem.
Instant rewards! Get extra discounts and deals when you pay with your card. Keep posted on our blog, Facebook and Twitter platforms or see in store for current offers.
No fee. No expiry. That makes it more convenient than a credit card.
Reload and re-use. Convenient and environmentally friendly.
Protected against loss. Once your card is registered, if it's ever lost, stolen or damaged, you can get a replacement card sent to you free of charge.
Exclusive deals. Registered cardholders are eligible for special offers not available to the general public.
Enjoy the holidays with a Trees Organic gift card. Ask about it at any of our cafes!
*Limited time offer
*One voucher good for any slice of cheesecake will be issued at point of purchase with each new card activation of $25 or more. Voucher has no cash value.