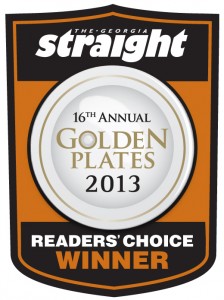 We couldn't have done it without you, Vancouver! To all those Georgia Straight readers who voted for Trees Organic Coffee & Roasting House as the best fair trade coffee shop in the land, we love you. You're awesome.
The Georgia Straight reaches over 800,000 readers on the west coast and for the Golden Plates awards, readers vote for their favorites in 158 categories. Apparently, we're doing something right — and it's an honour to come in first.
Since we opened our first flagship store on Granville in 1996, we've always prided ourselves on the exceptional quality of coffee beans we get from around the world. They're all certified Organic, shade grown, bird friendly, hand picked and fair trade. How do we know it meets those criteria? Our owner travels around the world and personally picks out the coffee beans.
That's why you can rest assured that whether you come in for a latte or leave with some bags of beans to brew up some goodness at home, you're drinking 100% certified organic coffee. We know that's important to our customers — and it's why we've been able to open more cafes in Gastown, Yaletown, Richmond and Kitsilano in a city that's already chock-a-block with cafes; the fair trade coffee shop is here to stay. We love doing what we're doing — and we really appreciate the vote of confidence in our coffeehouses, too.