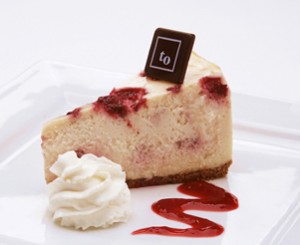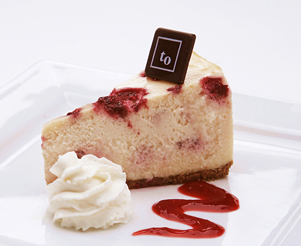 Fans of Trees Organic Coffee & Roasting House already know we're crazy about cheesecake — serving up the richest, creamiest, most fantastically flavourful slices of cheesecake you've ever seen. Now we're throwing our hat into the ring in Vancouver Foodster's Cheesecake Challenge: restaurants, cafes and bakeries from all over the city are taking part in a cheesecake-flavoured free-for-all and you're the judge!
Our champion cheesecake for this matchup is our Raspberry White Chocolate Cheesecake: "light & creamy cheesecake with whole raspberries and white chocolate on a graham crumb base, served with a drizzle of raspberry coulis." It's a customer-favorite and we know it's got the winning combination of creativity, value and taste. We'll be featuring this cheesecake (alongside all of our other awesome cheesecakes like the Sin, Key Lime and Maple Walnut) from March 7-28.
How can you take part in the Best Cheesecake Challenge? Well, that's the fun and tasty part, for you.
---
Contest details from Vancouver Foodster:
How Does this all Work? This is a public challenge; you are invited to go out and order any or all of the cheesecakes in this challenge, then you decide who you think has the best cheesecake creation.

Share your experiences: Tweet (and don't forget to tweet or instagram your photos) throughout the challenge, our twitter address is@vanfoodster and the hashtag is #CheesecakeChallenge. Please include this hashtag in all your tweets during the event.

Voting criteria – some things to help you judge your favourite cheesecake's – keep these things in mind: originality, creativity, uniqueness, traditional, non-traditional, price, value, and most importantly taste.

Get some friends together and make a day or night of it, visit 2 places or more to share and taste the different cheesecakes or go solo or with a friend – just remember to VOTE for your favourites between March 26 – March 31.
---
Now you've got one more reason to come in for our delicious cheesecake and dig into one of our sweet, rich creations to satisfy your craving. May the best cheesecake win!