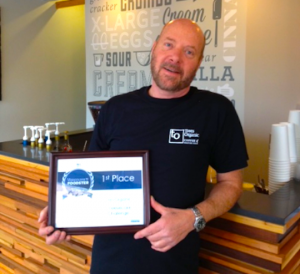 Victory is sweet! When the Vancouver Foodster threw down the gauntlet to all cheesecake vendors in Vancouver for his Cheesecake Challenge, our fans and customers answered the call! We're proud to say that Vancouver's cheesecake lovers have once again voted Trees Organic #1 for best cheesecake in the city:
The Vancouver Foodster Cheesecake Challenge was a huge success featuring 12 Cheesecakes around Vancouver, North Vancouver and Richmond. Each restaurant featured their cheesecake from March 7-28th, and then the public voted between March 26-31. The cheesecake creations ranged from the traditional to non-traditional.
With 580 votes, our Raspberry White Chocolate Cheesecake was 53 ballots ahead of the nearest competitor — and had more than five times the votes of the rest of the competition, combined. Wow. Thank you, Vancouver!
Ever since November 30, 2006, when the Province newspaper gave the nod to our cheesecakes as the best in the land, we've been keen to keep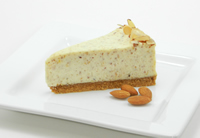 our standards high, producing the richest, creamiest, most flavourful cheesecakes around. We're so grateful to everyone who voted to keep us on top.
Why not drop in for a slice of our famous cheesecake? This month, our feature cheesecake is Marzipan, made with our own natural almond paste. We're sure you'll think it's a winner, too!