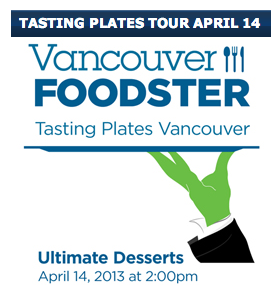 Tasting Plates Vancouver is a new event to tantalize your tastebuds, presented by Vancouver Foodster (whom you may recall from the recent Cheesecake Challenge where locals once more voted us in for best cheesecake in Vancouver!). Trees Organic's cafe at 2655 Arbutus St. in Kitsilano is proud to participate for this one-day tasting extravaganza on April 14 from 2 pm to 5:30 pm.
Try samples of our New York cheesecake, Marzipan cheesecake (April's feature), and of course, our organic fair trade coffee sourced from around the world. If you haven't gotten around to tasting the difference, now's your chance!
This is a fun food networking event connecting Vancouver's vibrant food community. Bring along a friend or two, your significant other, your family or come solo and taste the best that we've got to offer.
Don't forget to buy your Tasting Plates Vancouver tickets in advance for a sweet deal.
Buy your Tasting Plates Vancouver tickets on Eventbrite! Advance tickets are $35 per person (Eventbrite fee extra). 4 pak and 6 pak tickets are also available if you're thinking of going with a group of friends and family. Regular tickets are on sale after April 11 — just remember that you have to get your tickets in advance!
It's $115 for a 4-pak of tickets or $150 for 6 pak of tickets (get a group of your friends/family together and save by purchasing a 4 pak or a 6 pak (eventbrite fee extra). Regular Tickets $45 per person (eventbrite fee extra) after April 11.