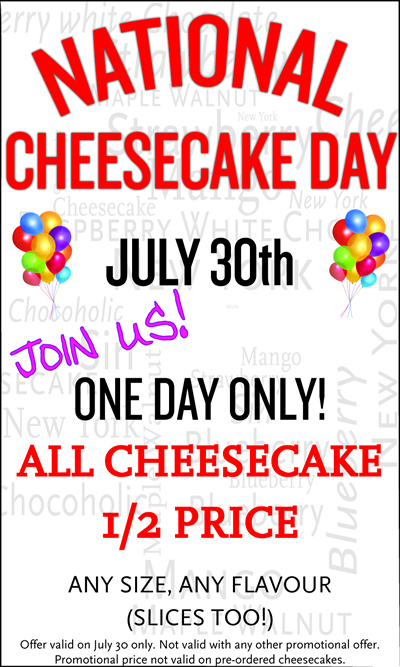 We're celebrating National Cheesecake Day on Wednesday, July 30th!* To celebrate, our cafes are offering all our cheesecakes, in all flavours, by the slice and whole cheesecakes, for half price on July 30!
You read that right: Trees Organic cheesecake for ½ price July 30. Bet you wish National Cheesecake Day came around a lot more often than once a year.
We're known for our top-rated cheesecake, that time after time has been voted as the best cheesecake in Vancouver. At the end of this month you can choose from a variety of different flavours, including our summertime fan-favorite, Mango Splash! Take in the ambiance of any of our friendly neighborhood coffeehouses as you take on your decadent dessert.
Make sure to check in on social media and say hello while you're here – and don't forget to tell your friends about National Cheesecake Day at Trees Organic. They'll be grateful you did.
Choose from any of our delicious flavours:
New York Cheesecake. The "classic" cheesecake; creamy with a refreshing hint of citrus.
Blueberry Cheesecake. Plump blueberries mixed in the cheesecake burst in your mouth with juicy, sweet flavour.
Maple Walnut Cheesecake. Sweetened with pure maple syrup and accented by the earthy, soft crunch of walnuts.
The Sin Cheesecake. Made with real Belgian dark chocolate and sour cherries. It's sinfully delicious!
Key Lime Cheesecake. A symphony of citrus in your mouth. Tart lime flavour with a lemon undertone.
Raspberry White Chocolate. Sweet and rich white chocolate balanced by tart raspberries.
Chocoholic Cheesecake. For the serious chocolate lover. Layers of Belgian dark chocolate and milk chocolate will satisfy any craving.
Mango Cheesecake. A summer specialty that combines tropical flavour and old-fashioned cream cheese goodness.
Strawberry Cheesecake. There's just something about cheesecake and strawberries going so well together.
* National Cheesecake Day may not be recognized as an official holiday, but for those of you that need an excuse for a little sweet indulgence, this is your chance. Celebrate the awesomeness that is cheesecake by eating a slice (or two).
Offer valid on July 30 only. Not valid with any other promotional offer. Promotional price not valid on pre-ordered cheesecakes.