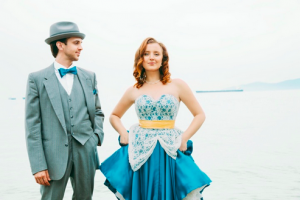 Continuing this fall, Trees Organic's flagship Granville Street cafe offers more musical entertainment for you to enjoy with a slice of cheesecake and your favourite coffeehouse drink. One of our upcoming acts on Friday, September 19 is Winsome Kind, including the local multi-talented musician Scott Perrie performing and the formidable singer Leora Joy, a member of the Juno-nominated Vancouver Chamber Choir. This husband-wife duo is making quite a splash on the Indie folk/pop scene. We caught up with Scott this week for our latest coffeehouse musician profile:
TO. You're not just a musician — you're also a talented theatre performer. How has that affected your musical performances?
Scott. It's certainly a part of who I am, and I think they compliment each other. Being on stage as a theatre performer requires a lot of discipline and hard work and I think that motivates me and carries over into being a musician and getting my music out there.
That's the really cool thing about Winsome Kind, because my wife Leora Joy has also been performing in the theatre for the last ten years, and is currently a member of the Vancouver Chamber Choir. We both have a wealth of experience and are very comfortable onstage, sharing our stories and our music with our audiences.
TO. You've performed at Canadian Music Week, Pop Okanagan, SummerFest, The Harmony Arts Festival, Khatsalano, toured around… what's next for you, tour-wise? And are you working on new material?
Scott. I have been very fortunate to perform at those festivals, but one of my favourite experiences was performing on VIA Rail last fall with my wife, travelling from Vancouver to Halifax. That trip resulted in us creating Winsome Kind, and we're really excited to be releasing our album this October. We've got plans right now for a cd release party in Vancouver, and a small Western Canada tour, with shows in Regina and Winnipeg. Then we get to ride back home from Winnipeg on VIA Rail, performing along the way.
TO. What influenced your "crooner" music style?
Scott. Well, I've always been a singer first. I started singing in choir when I was 9 years old, and it's just something I love to do. The crooner style is what comes out naturally, I always try to sing from my most authentic self. It brings me so much joy, and being able to sing with my wife and share our music with the world is something I've never experienced before. It really feels like our voices are meant for each other, and every time we sing together, I love it.
TO. In a Georgia Straight review of Everything Gives, they said your music "resembles an intimate coffee-shop set, with Perrie utilizing a traditional folk setup of acoustic guitar, harmonica, and stomp box". Seems like a perfect fit for our coffeehouse scene!
Scott. You bet. I love the intimate setting, and I've been honing my craft in this type of environment for years. With Winsome Kind, we're totally comfortable playing with a full band or just as a duo. I play guitar and mandolin, and instead of a stomp box these days I've got a small tambourine on my foot. Leora Joy plays the melodica, and sometimes the ukulele, and everything we sing is filled with harmony. Sometimes I sing the lead part and sometimes she does, we take turns and we have a lot of fun together.
Listen to Winsome Kind's debut album on Soundcloud! Trees Organic's Granville Street cafe features live music every Friday. See the full schedule of talented musicians performing at our cafe this month