The leaves on the trees are just starting to change colour in the fall — and that means your favourite seasonal cafe drinks are back. Starting September 15, treat yourself to a Pumpkin Latte, Brown Sugar Cinnamon Latte or a Chai Latte — or even better, treat a friend! These drinks will keep you toasty on a cool fall day. Inspired by the sweet, spicy drinks you cherished growing up, these beverages will put a smile on your face.
But that's not all; returning September 29, our fan-favourite Pumpkin Spice Cheesecake is back! A sprinkle of cinnamon and a dollop of whipped cream on the side help top off this tasty fall dessert, infused with fresh pumpkin straight from the seasonal harvest. If you like pumpkin pie, you're going to love this cheesecake —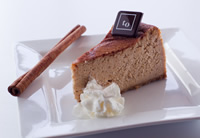 and if you've never tried it, then you are in for a good time ahead. Enjoy a slice of sweetness with lunch; reward yourself after a hard day's work; enjoy the fun of the big city as a tourist or newcomer — or just take a decadent dessert home to go with dinner (Our cheesecakes come by the slice, or in 6″, 8″ and 10″ sizes). You'll be glad you did.