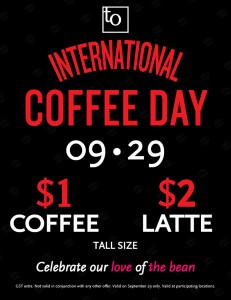 Canadians love their coffee. Putting aside tap water, coffee is actually the most popular beverage in the country. Sixty-five percent of Canadians between the ages of 18 and 79 would say they drank coffee yesterday, according to a recent study by the Coffee Association of Canada. Actually, Canada is second only to Italy for the percentage of coffee we drink outside the home. Of course, folks love coffee all over the world. That's why we'll be celebrating International Coffee Day on Monday, September 29.
Celebrate with us! On International Coffee Day, September 29, enjoy a $1 tall coffee and $2 tall latte at any of our Trees Organic Coffee locations in Vancouver and Richmond.
A Special Day to Recognize Coffee Growers and the Benefits of Fair Trade Coffee
Coffee is an incredibly diverse product grown in many regions far removed from where it was originally discovered in the untamed wilderness of Ethiopia (Read about the Story of Coffee). Cultivated in Africa, South America, Asia and beyond, coffee is grown around the world in rich varieties that evoke distinct flavors catering to an equally diverse international market.
Coffee very nearly became a victim of its own success in the early 20th century, as market forces slowly turned a refined and special product into commodity purchased in bulk blends; there was little accounting for taste and even less regard for the growers who worked hard to grow coffee for an expanding marketplace while struggling to be compensated fairly.
On International Coffee Day, we recognize the fair trade movement that has helped reverse that trend; today, our cafes work with organic coffee bean growers according to fair trade principles; these principles ensure that growers are paid what they deserve for producing quality beans in a sustainable manner. Thanks to fair trade, the customers in our cafes get to experience an incredible richness of flavors from their coffee beans. We think that fair trade organic coffee tastes better – and we know that when you try it, you'll agree.
Coffee Facts for International Coffee Day
Feel free to share these cool facts with your friends – and see what they know about one of the world's most popular beverages!
Bad weather in Brazil and farm failures elsewhere can't keep coffee down. Nearly 150 million bags of coffee are estimated to be produced around the world from the start of 2014 until the end of the year. Each bag is 60 kilograms, so that works out to an astonishing 9 billion kilos of coffee!
Major coffee growing countries include Brazil (even with bad weather, they're still expected to produce more than 33 million bags this year!), Colombia, Vietnam, Mexico, Costa Rica and Indonesia.
The European Union imports 46 million bags of coffee beans; the USA imports a smaller but still-respectable 25 million.
More than 1 billion cups of coffee are served in Canadian restaurants every year. That's a lot of coffee!
85 percent of Canadians drink coffee for breakfast – no surprise there!
Enjoy International Coffee Day! Looking forward to seeing you here on September 29.