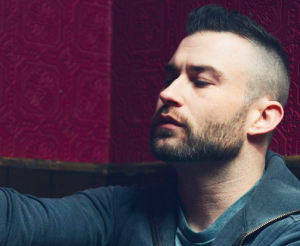 Sit down and enjoy a latte. Have a slice of cheesecake. Listen to some extraordinary musical entertainment in one of downtown Vancouver's most popular coffeehouse venues. Our cafe at 450 Granville Street continues to feature some amazingly talented artists this month. Open mic Thursdays and Live Music Fridays are the go-to nights for any local music fan's schedule. On October 31, we've got the dark and eclectic Brian O'Brien performing, along with Tom Gamble and our city's unofficial king of the blues, John Pippus. We caught up with Brian this week to get a closer look at his musical style:
TO. You've done metal to rap to acoustic. What kind of range should we expect the night you perform on Oct. 31?
Brian. I've found most people to be pleasantly surprised. Metal and rap have influenced me to structure songs in less conventional ways (metal especially). Hip Hop on the other hand has given me an appreciation for lyrical curve and story telling — and also an appetite for writing songs from a darker perspective.
I feel that people are more empathic to the darker songs I write. The only difference is that with singer-songwriting, I can paint a prettier picture on acoustic than with a distorted guitar
TO. How do other Irish acts influence your own music?
Brian. Irish artists influence my music hugely. Irish acts like Liam Clancy, Paul Brady and the Wolftones are responsible for a lot of the music I'm writing right now.
TO. My Father's Throne is your debut solo album — what ties these tracks together?
Brian. My Father's Throne is autobiographical, a product of a turbulent five years in my life. The album is essentially about understanding a lot of crazy things going on in my life at the time. Trying to keep a descent handle on it; battles with monogamy, deceit, trust and love.
TO. What's the plan for the next album?
Brian. I plan to record a new Album in Fall 2015 down in Nashville with some friends of mine.
TO. Beyond great music, what's the trick to pulling off a great performance in an intimate coffeehouse setting?
Brian. Just be honest with the audience. It's one of the few places they can smell your bull. And I should probably go easy on the coffee before I go on.
Check out our live music calendar for October and drop in for some great musical entertainment, desserts, lattes and more!