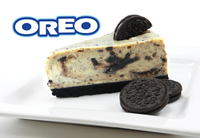 Our Oreo Cheesecake was a big hit earlier this year — so we're bringing it back by popular demand!
Oreo cookies. Who can resist them? Cream filling, in between thin chocolate cookie wafers for just the right combination of crunchy-creamy texture. That's what inspired our own Oreo Cheesecake, made with the treat we all grab, pop and love.
You might dip an Oreo cookie in milk, but with our Oreo Cheesecake, you can try something a bit more decadent. Try dipping a fork of this treat into your latte or cappuccino, or try it with steamed milk and a shot of your favourite flavour. However you like to have it, our Oreo Cheesecake is also great for sharing with friends after work, or if you're out on a date. Share the love!