You're going to love it. We're excited about our new Ethiopian Yirgacheffe coffee beans that we're serving up in our cafes. Ethiopia isn't just an important coffee growing region — it's where coffee was first discovered. Some of the best coffee varietals in the world still come from there and today, Ethiopian Yirgacheffe coffee is recognized as the cream of the crop. When you come in for your morning cup (or afternoon pick-me-up), you're going to get something special.
Ethiopian Yirgacheffe Coffee flavour profile
This isn't a coffee you want to just gulp down for a caffeine fix. Ethiopian Yirgacheffe is one to savour. It's a medium to light-bodied coffee with a complex flavour profile that gets more interesting by the second. You'll smell floral tones before you take your first sip. At first, you can taste undertones of wine or berries; then you get a potent finish with a final reward of chocolate and citrus. You might even get a sense for toasted coconut.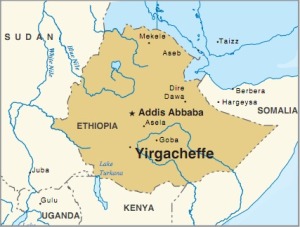 Where does Ethiopian Yirgacheffe come from? The coffee growers from the Sidamo region in Ethiopia are still cultivating their coffee in the birthplace of the beans. Coffee is a major export for the country and growers in this region take care to maintain the quality and flavour that appeals to the international market. This coffee is named after the town of Yirgacheffe (aka Irgachefe) and is grown about 1,900 meters above sea level, a perfect altitude for growing a strong, hearty coffee infused with incredible flavour.
Come into Trees Organic to order your Ethiopian Yirgacheffe coffee and taste something very special. And don't forget: all of our coffees are available for purchase in whole bean, or ground to your liking, so you can enjoy at home!