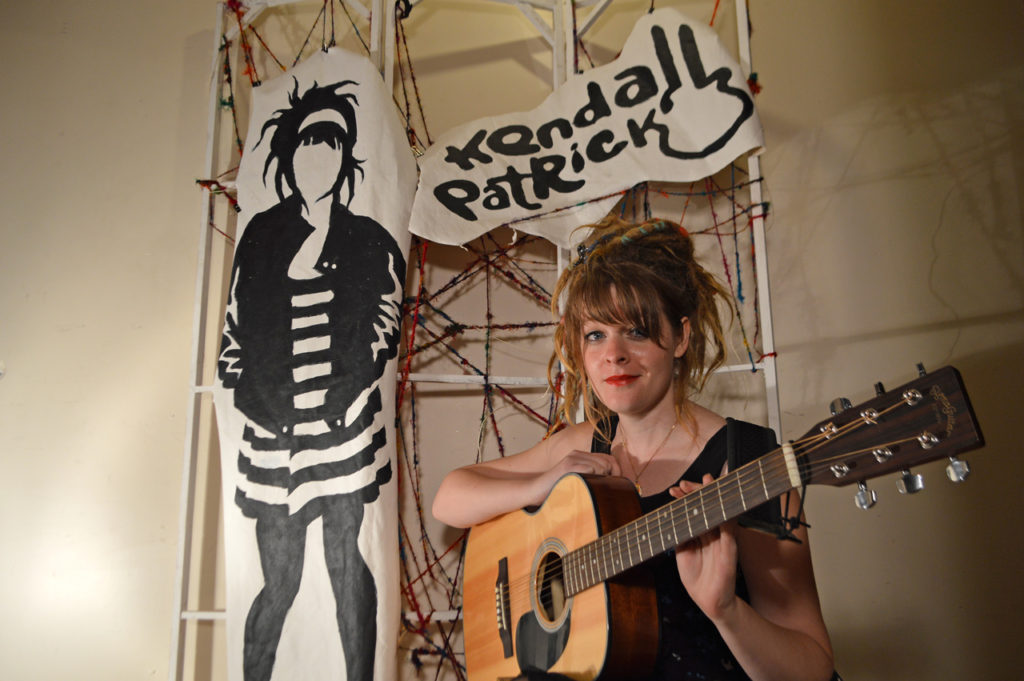 Kendall Patrick of Vancouver Island is the feature up-and-coming singer-songwriter in our latest coffeehouse musician profile. She will be performing at the live music event of Friday, August 26 at Trees Organic Coffee & Roasting House (Granville Street).
Bringing more melodious pride to the West Coast, Kendall Patrick is making musical waves in folk music with her moving lyrics, raw talent and genuine passion for life and music. Kendall has always been involved in music, classically training in piano throughout her childhood, but it wasn't until her teen years that she truly discovered her musical talent and adoration for the craft. She began performing fourteen years ago, when she was in ninth grade and hasn't stopped since, having written many songs, released four albums and performed in various coffee shops, venues and festivals. Kendall is now taking a massive step in her music career and has committed all of her time and herself to it. She is currently re-establishing herself as a solo artist and is incredibly excited about releasing her new EP soon!
To Kendall, music has a much greater purpose than serving as pure entertainment or a personal ego boost; she believes that music provides inspiration and a voice for a cause, a message, and for those in need of support; a source of empathy and humanity. She often finds musical inspiration through what is happening in the world and continues to pursue such topics in other areas of her life such as in her Operation Empowerment, a project that discusses media literacy and self-esteem with children and teens. Kendall loves to surround herself in her craft and, when not performing or writing music, she finds happiness in teaching music at Arbutus Music. Thank you for the music, Kendall!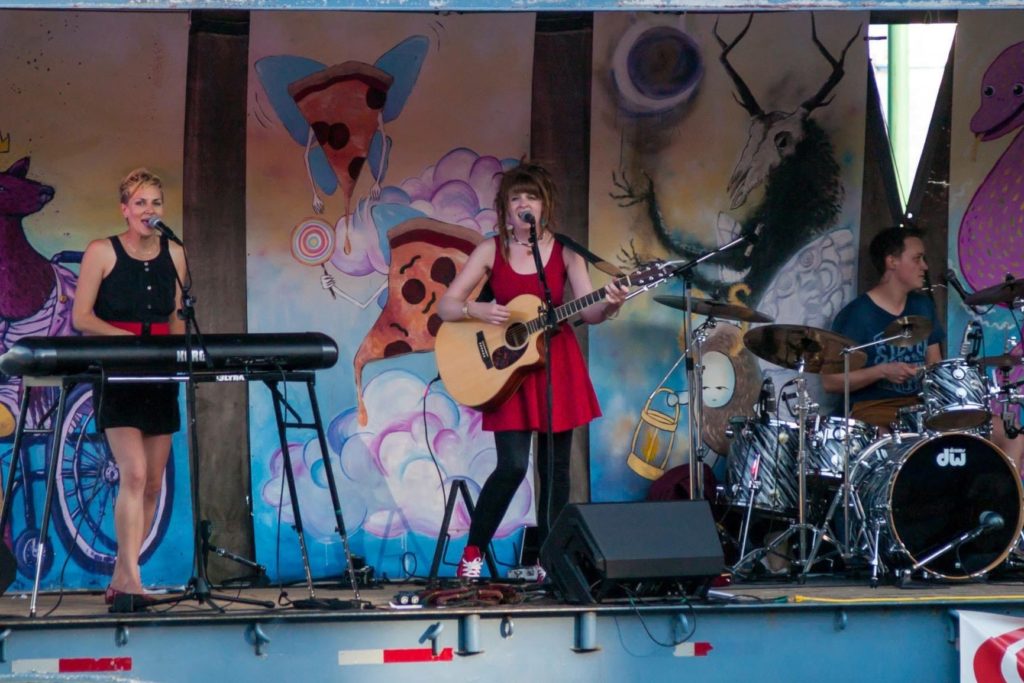 In conversation with Kendall Patrick
TO. What do you enjoy most about playing as a solo artist? What caused you to pursue your solo career, opposed to remaining in a band?
Kendall. I would have loved to continue on as "Kendall Patrick and the Headless Bettys", but the Bettys have begun to disperse into their own universes. The Bettys have had a great run over the past 4 years but it's time for all of us to refocus on our own paths. As I take the next stride in my career, I am re-establishing myself as a solo artist to keep the focus strong and clear. When I play solo I am challenged to bring the audience into an intimate moment with me as the performer but also as the songwriter. Instruments can sometimes drown out the words, which to me are the most important aspects of the songs. Being able to control dynamics and delivery gives me the chance to make a direct connection with the people listening, and really let them in on what I'm singing about. The messages in the songs are the heart and soul of listener/artist connection, and that intimacy is what I love the most about playing solo.
TO. What inspires you to write your music? Is there one topic or message that you tend to gravitate towards when writing? Causes, social issues, personal?
Kendall. The thing I love about my favourite artists like Brett Dennen, Ani Difranco, and Shane Koyczan, is that they bring humanity to whatever topic inspires their song. It may be inspired by an oil spill, someone's death, political scandal, a natural disaster, or a relationship. But the message I get is always "how do I process this as an emotional being? How do I work through all of this hardship and come out the other side without hardness and bitterness? How do I validate my experience, and transcend it? I suppose that is why I have ended up doing the same thing with my own writing. Every song I write is an expression of me trying to evolve. Trying to accept. Trying to let go. Trying to persevere. Trying to tell somebody something. And the higher purpose is to have that process be related to by somebody out there who's going through the same thing. Sometimes all it takes is to hear your own heart in a song someone else wrote to get that charge you need to make to through. Life is short, but it's also long, and we need as much cheering on as we can get to pick ourselves off of the floor, again and again. That's what inspires me to write.
TO. If there was one specific thing that you could change or achieve with the power of your music, what would it be?
Kendall. I would want the kind of impact that music by my idols have had on me – therapeutic, healing, transformative. Ever since I started writing songs, I have had a need to incorporate a message of growth, no matter how heavy the topic was. I never wanted to leave the listener in a state of hopelessness. That's not what my songs are for. I write them to give my experiences and feelings some attention by describing them to the best of my ability, and then transcending them so they have a purpose, not just a place to commiserate. For example, in "Heaven" by Brett Dennen, he writes, "the failure keeps you humble, and brings you closer to peace". That for me was huge in helping me to have a great respect for what I perceived as failure. He showed me it's not at all a bad thing, but something that actually teaches me and gives me dignity. This means the difference between feeling like giving up, and honouring the difficult experiences for the opportunities they are. This is the kind of love and encouragement I need to evolve as a person, and when we wish the world wasn't in such disarray we have to think, "I am the change I want to see in the world". So this chain reaction of inspiration is individual but it's also so very global. If my music can contribute to that greater consciousness, I'll have done my job.
TO. Where do you hope to end up in the next 5 or so years in regards to your music career?
Kendall. First of all I love the wording on this question. I can't "hope" in this business. I have to do. It's about concrete goals and action, and in that I might be lucky enough to "end up" in some "right time/right place" situations. Chances are slim to none that I will end up anywhere on hope alone. I have spent too much time doing too little and I'm committed to working for as long as it takes to fulfill the goal of… OK and here comes my "goal rhyme": To go from cafes to soft seaters. A little pub to a bigger theatre. From CHLY Nanaimo radio to CBC on a National stereo. To get from here to there. To climb a few more stairs. From touring a little to touring a lot." To giving more of what I've got.
TO. What would you think of welcoming extreme fame should it happen? Would you rather remain a more independent artist?
Kendall. Extreme fame would be welcomed, however I'm not reaching for that. My style tends to bend more towards a folk/singer songwriter genre rather than pop, so focusing on college radio and film/TV licensing, especially at this point in my career, makes more sense. However, commercial radio has opened its genre doors towards a poppy echelon of folk with bands like Mumford and Sons and the Lumineers, so it's not at all out of the question. It would be a blessing to have reached so many people through music, and it would in turn afford me a wider opportunity to continue writing, recording, and touring.
TO. What was your most personally fulfilling and inspiring musical moment? Like the first time you sang at a venue and everyone knew all of the lyrics to one of your songs for example.
Kendall. There have been so many amazing moments throughout the years. Recently, I will say that one moment that sticks out for me is when I played a new song of mine called "The Wanderer" at a show this past July. The moment was made by a combination of the power of the lyrics and my ability that night to fall into the emotion of the song and really deliver the message. Afterwards I had multiple people approach me and share that it had moved them, that it brought them to tears, and they wanted me to record it so they could listen to it on repeat. I know that feeling. I have felt that kind of connection to a song so many times in my life and it's how I know that music is the great connection I have with life because nothing else can move me and make me feel alive the way that music does. To have been able to transmit that experience through my own song to someone else is astounding to me. I feel so in awe of the chain of transformation between millions of people through the power of music, and any moment that reminds me of that qualifies to be fulfilling and inspiring.