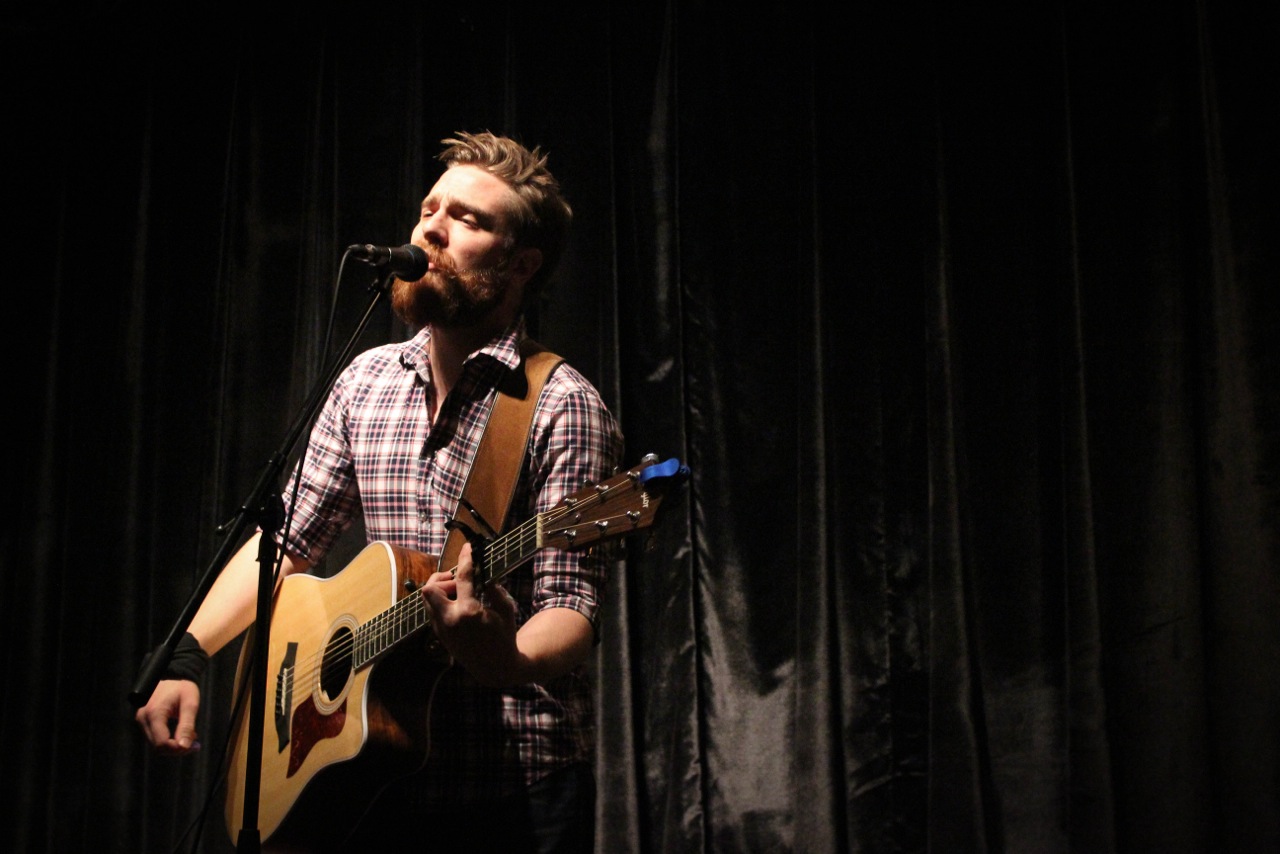 This month's coffeehouse musician profile features local singer-songwriter Zulu Panda, who will be performing at our weekly Friday live music event on October 28th.
Vancouver-based Zulu Panda is an independent artist writing music with a blend of rock, folk, pop and grunge. His love of music began at age 16 when he learned to play the guitar and realized that he enjoyed writing his own material over playing covers. For the past ten years, Zulu Panda has been performing and honing his song writing skills.
Several key milestones took place in 2013, marking a more serious turn in Zulu Panda's music career. He completed the Singer-Songwriter Certificate Program from Langara College. At the same time, his first self-produced full-length album, entitled Hope All Abandoned, was released and it earned him a semi-finalist honour in the International Song of the Year contest, judged by some of the top names in the music industry.
Music continues to be Zulu Panda's highest priority and passion. He enjoys performing live, sometimes as a solo artist but other times he collaborates with a full rock band. In addition to touring, he enjoys building community with other musicians and is hugely involved with the Vancouver indie music scene, particularly helping with the production and filming of the Inside Van Series (Youtube) from Indie Van City, a passion project supporting, enriching and connecting the music communities in Vancouver. However, more than anything, Zulu Panda is committed to writing music and lyrical storytelling, which has been largely shaped by his university studies in philosophy and political science.
Earlier this year, Zulu Panda released his first studio album, Two-Way Street (Not War). The indie-rock EP features four tracks recorded with Adam Fulton at Blue Light Studios, and it can be found at Bandcamp and most other music platforms online. Catch Zulu Panda performing a live acoustic set on Oct 28th at Trees Organic Coffee on Granville Street.
In conversation with Zulu Panda
TO. How did you come up with your unique stage name and what does it mean – Zulu Panda?
Zulu Panda. When I set out as an independent singer-songwriter, I realized that many artists get lost in a sea of proper names like 'John Smith' and I felt that I needed a stage name that would have an impact on people – if only to get them to think, 'Huh? What's that about?' I had a few ideas in mind but Zulu Panda stood out as the most unique and enticing. The name stands as a reminder that in this ever-shrinking world, everything is a remix and with the globalization of culture we draw from all walks of life.
TO. Where do you find the inspiration for the stories in your songs?
Zulu Panda. I find inspiration anywhere I can – movies, current events, ancient philosophy, travelling, comic books, failed relationships – you name it. I really love songs that tell a story, so when something strikes me I try and run with it. My song 'No Fishin' in Motown' for instance, I heard about kids fishing out of a pothole in Detroit from the CBC. Another song of mine, 'Temple Dogs,' I wrote in Hong Kong at the Big Buddha Temple after being followed by the strays that live there. I try to draw on the common emotions we all feel – love, longing, heartache and so on.
TO. Tell us more about your song writing process and the songs on your latest EP Album.
Zulu Panda. Most of the time when I start a song, I work on the guitar part first. It's a good place to start because once I have some chords that I'm happy with I'm able to experiment with different melodies and lyrical concepts to flush out the song. 'Chinatown Purgatory' for example was written that way. Sometimes, however, the lyrics will come to me first and I'll have to work backwards. They'll be too good to ignore and I'll try to use that as a jumping point. That's how I wrote 'If You'll Permit Me,' for instance.
The whole album, Two-Way Street (Not War), is linked to the idea of overcoming a negative frame of mind for more positive emotion, moving beyond breakups and being mistreated to a place of romance, love and self-discovery. 'Not War' is a song about hopes and dreams, of heroes and demons and horrible things. It's a driving tune to help let out all the drama. 'Letter To A Thief' is about frustration and conflict. More specifically, it's about saying goodbye to someone taking advantage of you. 'If You'll Permit Me' is a love song about being too polite, the girl of your dreams and four boys from Liverpool. 'Chinatown Purgatory' is a nod to my old life in Victoria's Chinatown and was inspired by some of my greatest heartaches.
TO. How did the nine unique works of album art come together for your latest EP album? Where can they been viewed?
Zulu Panda. When I was recording, I decided I wanted my album art to be made using traditional mediums like drawing and painting. When I was looking around for a visual artist I liked, I found I had friends and acquaintances all around the world, from Australia to Macedonia and back to Canada, who were talented and wanted to contribute. So as part of my Indiegogo campaign (to release my EP album on custom guitar-shaped wooden USB drives) I curated nine pieces of album art that focused around my image as a songwriter and themes from the music. The feedback has been tremendous and I'm very grateful to everyone that contributed. The album art comes with the purchase of the EP from Bandcamp and it comes on the USB copies of the album that are for sale at my performances. Previews of the album art can be seen at my Indiegogo campaign.
TO. What do you enjoy most about the indie music scene in Vancouver?
Zulu Panda. The Vancouver indie music scene has welcoming venues (like the one at Trees Organic Coffee on Granville Street) that support songwriters and bands alike, as well as great open mics, where people can test new material and gain confidence if they're starting out. My favourite aspect – the songwriters and record producers that live here are easy to talk to and easy to work with, yet professional and hardworking in their own right.
TO. Are there any exciting upcoming music projects? What is your next biggest goal for your music career?
Zulu Panda. Well, I'm always working on new things! I just released a new self-produced music video for my song 'Letter To A Thief.' I sang in Chinese for a cover song duet I'm doing with a friend who is a Chinese National. I have been collaborating outside of my usual genre with an EDM artist on some new demos. I'm also starting pre-production on my second studio EP this winter. Probably most importantly, I've started writing what my bandmate and I have dubbed our "80's Action Musical" where we're turning a beloved action film from the 1980's on its head via song. Of course, there's also touring and writing – I love travelling, sharing my music and having the time to create new stuff.