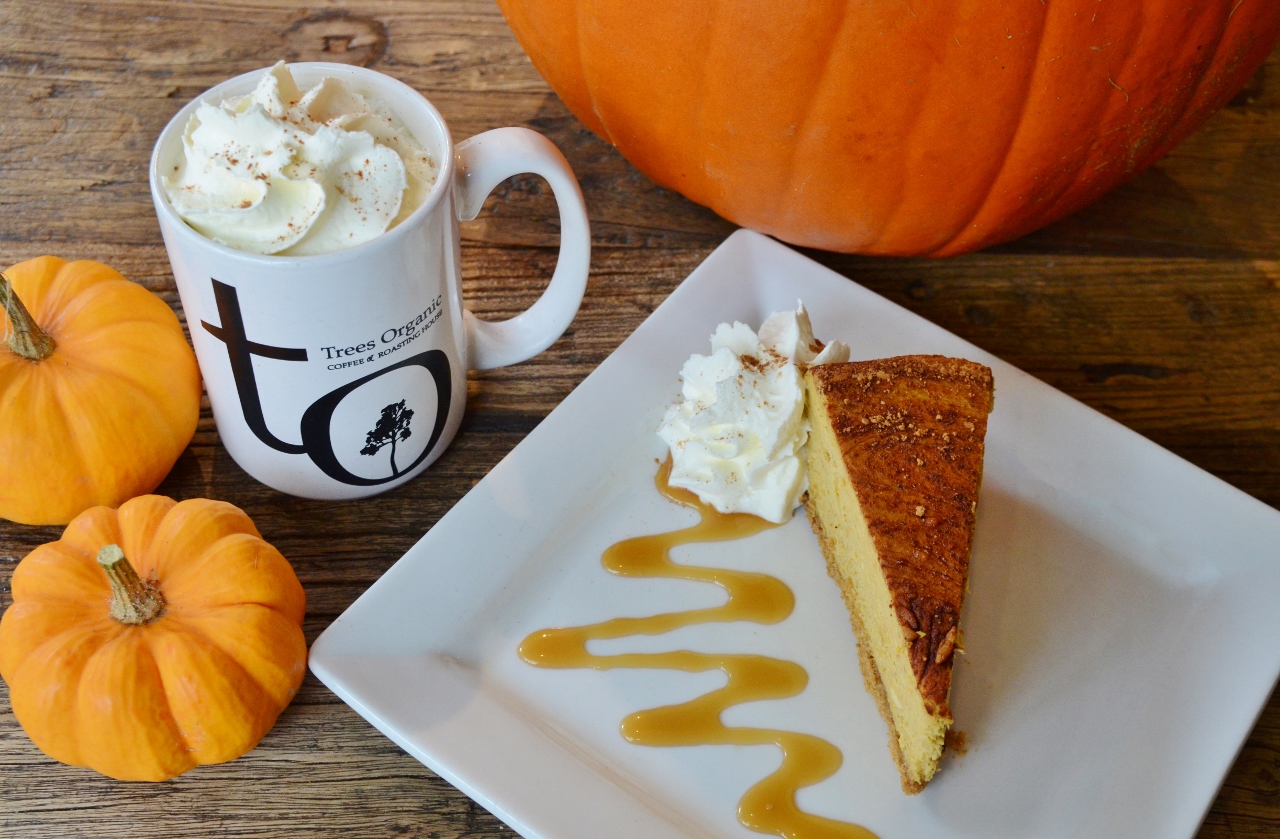 Make your October twice as nice with pumpkin spice in a cheesecake and a latte. Prepare to swoon over our current features – a Pumpkin Spice Cheesecake and a Pumpkin Spice Latte; they're ready to satisfy your undeniable craving for those yummy, comfy, pumpkin-y and sweet-spicy flavours. You can have your cake…and drink it too!
Pumpkin Spice Cheesecake Has Never Tasted So Good
Nothing screams the season of pumpkins and Thanksgiving like a pumpkin spice dessert! Our Pumpkin Spice Cheesecake is a decadent take on a timeless pumpkin pie – packed with real pumpkin goodness but combined with our smooth cheesecake filling. The just-right balance of cinnamon, nutmeg, cloves, orange zest and cardamom delivers a touch of spiciness. The cheesecake is finely dressed with a cinnamon top, graham crust, caramel sauce and whipping cream on the side. While light-fluffy in texture, it is big on comforting flavours! Our cozy Pumpkin Spice cheesecake has never tasted so good!
Company's Coming
There's a lot to be thankful for at this time of year with loved ones. Celebrate this Thanksgiving season by adding a crowd-pleasing Pumpkin Spice Cheesecake to a party's dessert buffet, whether you're the host or a guest. Prepping for a Thanksgiving feast with a turkey and all its trimmings is a ton of work; so, let us bake the dessert for you! Or, be the stand-out guest that brings the gift of a cheesecake instead of the usual bottle of wine. Either way, treat your nearest and dearest by picking up any of our 9 cheesecake flavours to-go in 3 whole cake sizes – 6″, 8″ and 10″ from five Trees Organic Coffee locations. Your friends and family will thank you!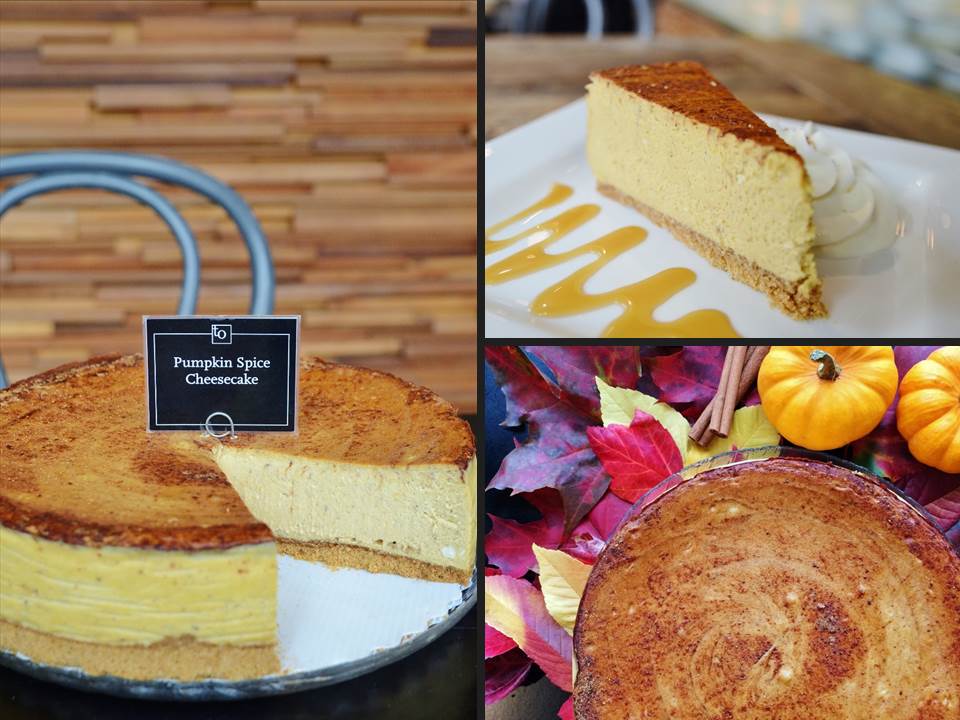 Pumpkin Spice Latte Feels like a Warm Hug
Sink into a heart-warming Trees Organic Coffee Pumpkin Spice Latte as the cooler Vancouver temperatures set in. Wrap your hands around our comfy version that is a fusion of espresso (organic coffee) and steamed milk with flavours of pumpkin, nutmeg and cinnamon, along with a crown of whipped cream. It's incredibly pumpkin spice pleasing and feels like a warm hug in a mug!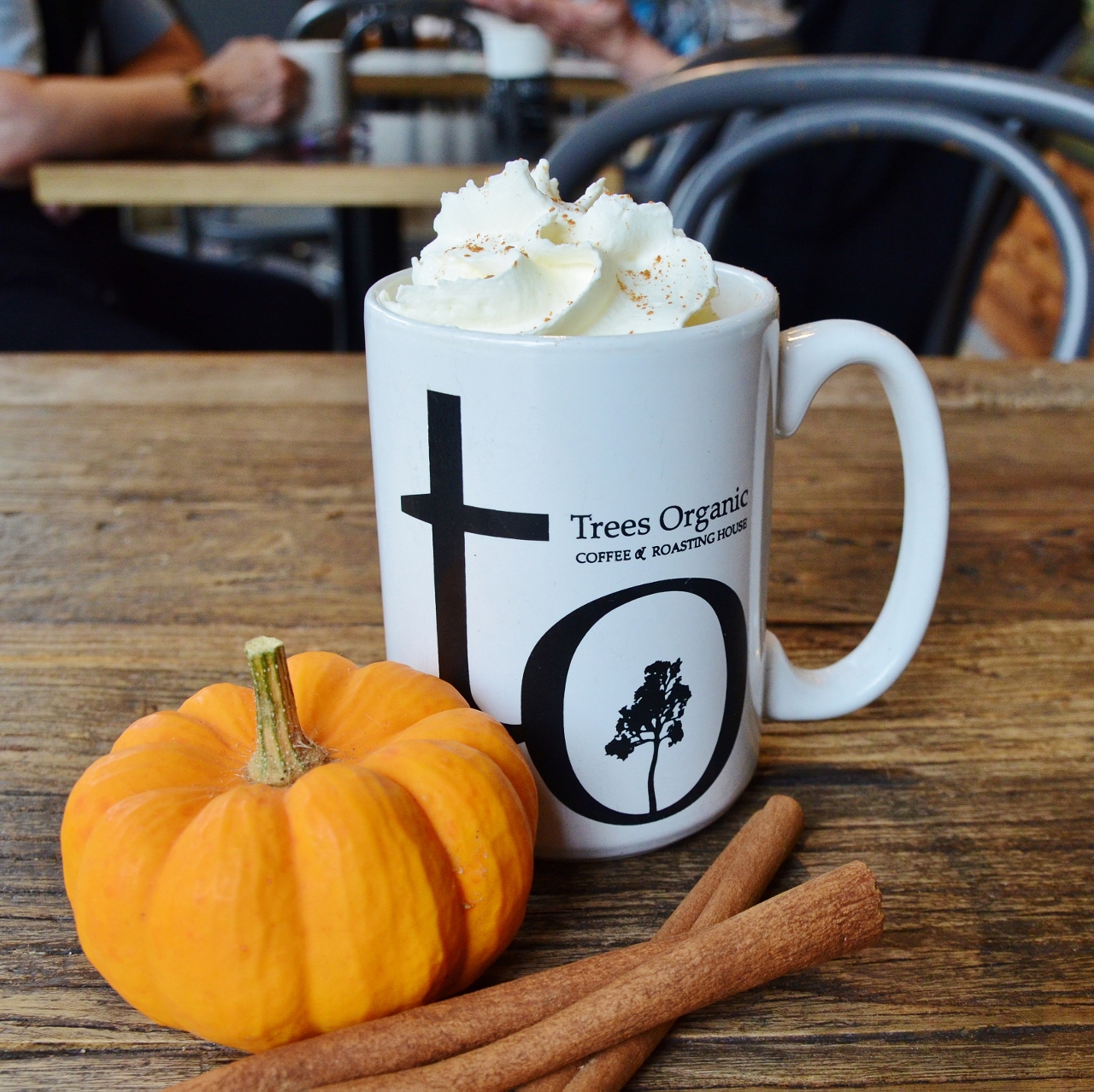 This fall and Thanksgiving season, find your perfect pumpkin spice companions with a Pumpkin Spice Cheesecake and Pumpkin Spice Latte from Trees Organic Coffee and Roasting House. You can never have too much pumpkin spice!