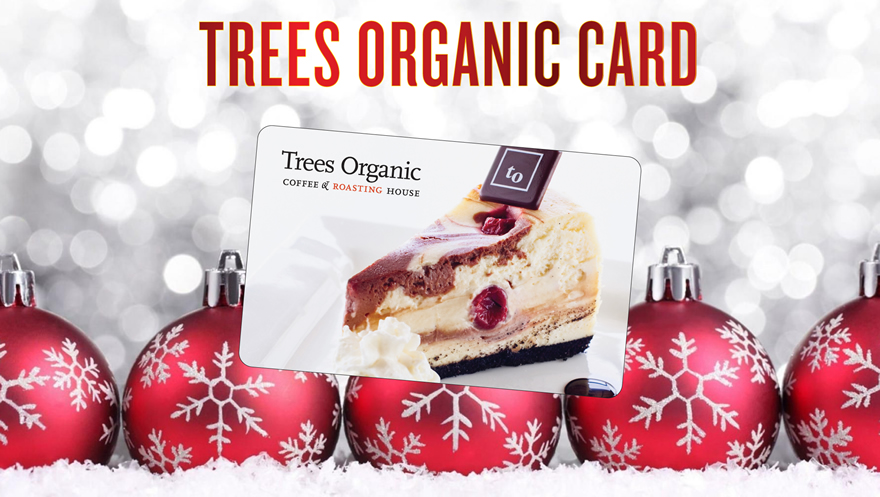 Holiday Sale on Trees Organic Gift Cards
Because it's the hap-happiest season of all, we're unwrapping another gift card special for you! From now until Dec 18, 2016, enjoy our great holiday sale and save when you purchase a Trees Organic Card – pay only $20 for a $25 gift card at participating Trees Organic Coffee locations.
Gift of Delicious Choices
Spoil your foodie-focused loved ones with a yummy gift of delicious choices by surprising them with a Trees Organic Card. Your giftee will love the versatility to choose from a big selection of organic coffees to teas, cheesecakes to pastries, breakfast to lunch items, cookies to vegan power bars, and plenty of other treats in between! With so many flavourful options, you just may want to keep the gift card for yourself!
Whether you're buying the gift cards as stocking stuffers or stocking up for yourself, don't miss out on this jolly great holiday savings – get a $25 gift card value by paying only $20*!
Alternatively, you can take advantage of our other gift card special for the holidays – buy a $25 Trees Organic Card and get a FREE slice of any cheesecake, until Dec 25.
Check out our holiday gift ideas for more goodies to suit any of the foodies on your Santa list!
Trees Organic Cards have no fees or expiry dates and can be reloaded anytime. Register the card for balance protection against loss/theft and for extra perks. Cards can be used at any of our five Vancouver locations.
*This special offer is available until December 18, 2016 at participating Trees Organic locations in Vancouver. No restrictions on the number of $25 gift card purchases. Cannot be combined with any other promotional offers. Trees Organic Card FAQ's and Terms of Use.