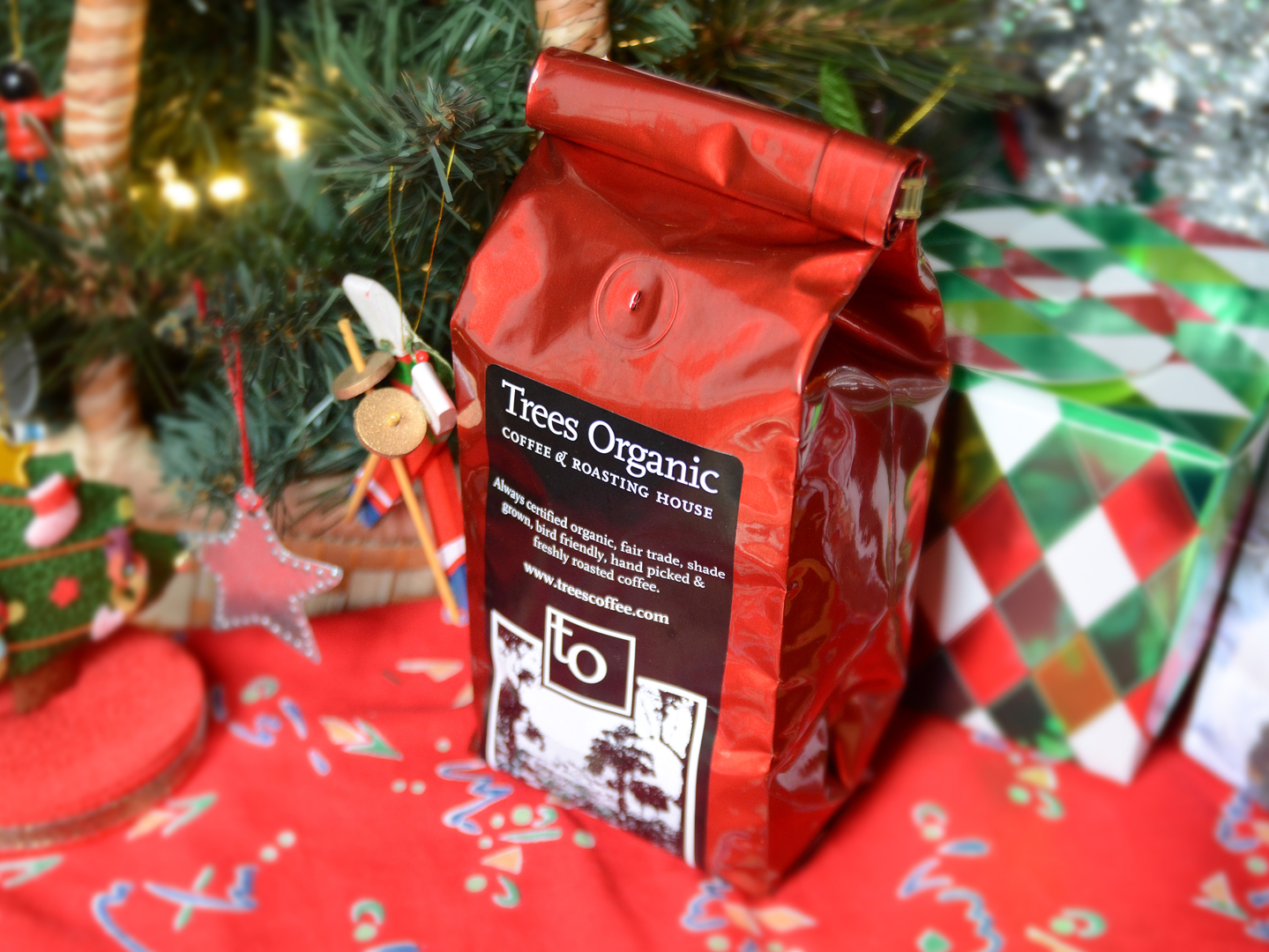 It's the most wonderful time of year for gifting! We're getting in the spirit and helping you get ready for the holiday season with a roundup of fun gift ideas of our flavourful goodies for foodies!
Gifts With Good Taste
Whether it's for him, her, or a group, make your favourite people happy with tasty treats that are ideal for socials, parties, gift exchanges, under the tree, or in a stocking. Start crossing gifts off that Christmas shopping list with something below for every food lover on your nice list! Share the love of organic coffee, scrumptious cheesecakes, an assortment of loose leaf teas, plus a big selection of pastries and other savoury treats they're sure to love.
Cranberry Orange Cheesecake for the Merriest Occasions
Perfect for holiday entertaining at a home or work parties, the Cranberry Orange Cheesecake dazzles with festive flavours of cranberries, candied orange, orange zest and holiday spices. Available by the slice or in 3 cake sizes – 6", 8" and 10".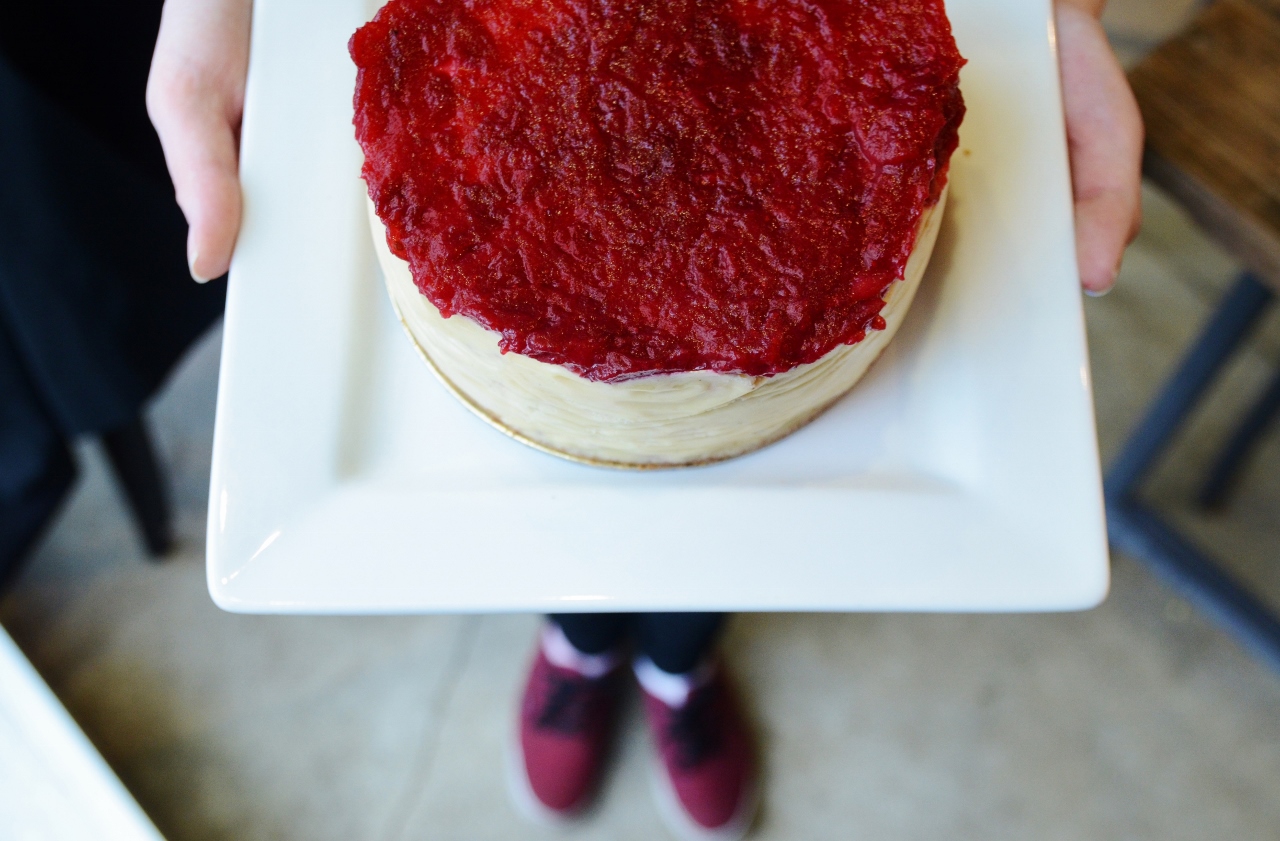 8 Cheesecake Flavours to Treat Their Taste Buds
Celebrate the best of the holidays with a crowd-pleasingly luscious cheesecake! Surprise them at work or at home with 8 regular flavours to treat their taste buds, including New York, Blueberry, Mocha, Maple Walnut, Chocolate-Cherry, Key Lime, Raspberry White Chocolate and Chocoholic. Available by the slice or in 3 cake sizes – 6", 8" and 10".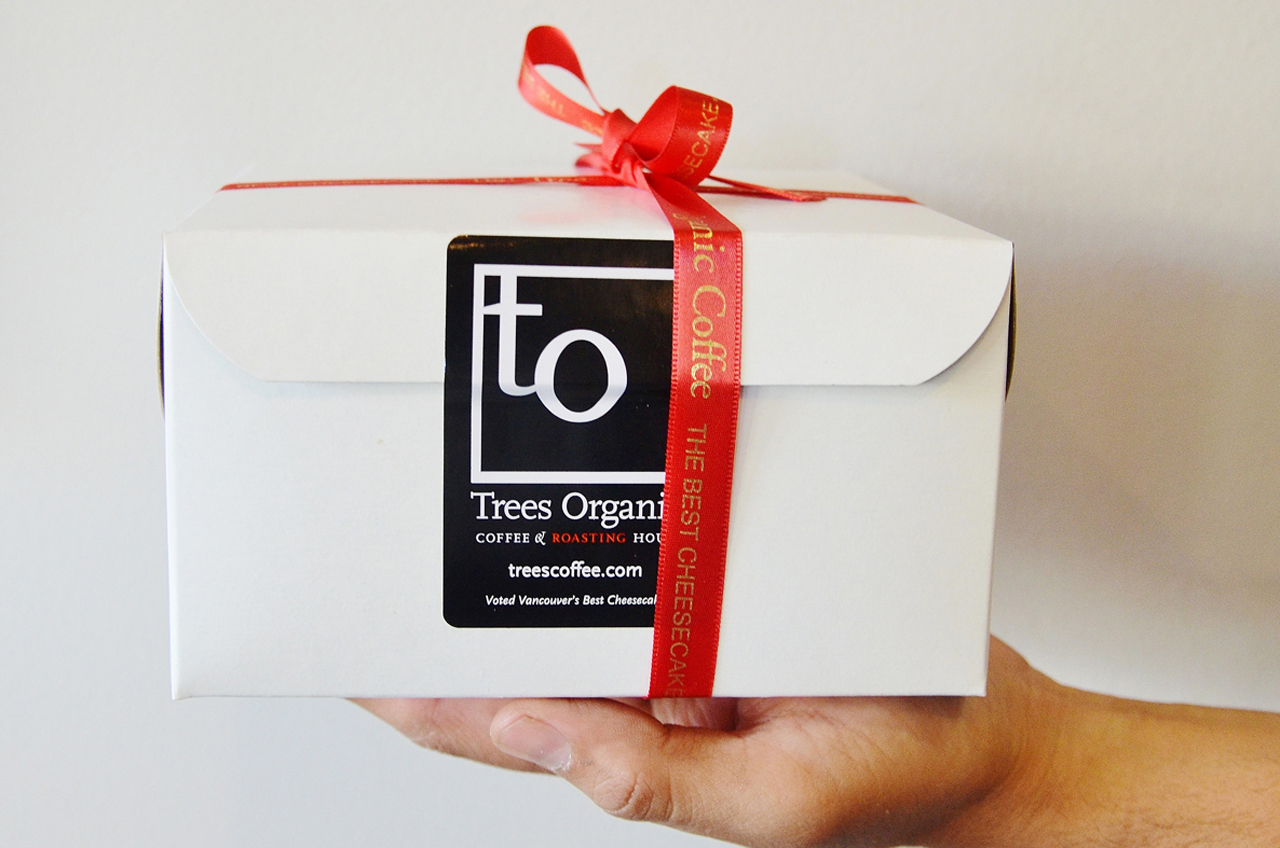 Organic Coffee Beans for Coffee Lovers
For the coffee lovers in your life, spoil them with our amazing 100% organic coffees that are single origin, naturally shade grown and bought at fair trade terms. To offer the freshest and best tasting coffee, we roast the beans ourselves in small batches daily at our Granville Street Roasting House. As a unique gift, consider giving Ethiopian Yirgacheffe coffee, which rates among the best premium coffees! Fresh roasted whole or ground coffee beans for brewing at home are available in two sizes – 200 g and 400 g bags.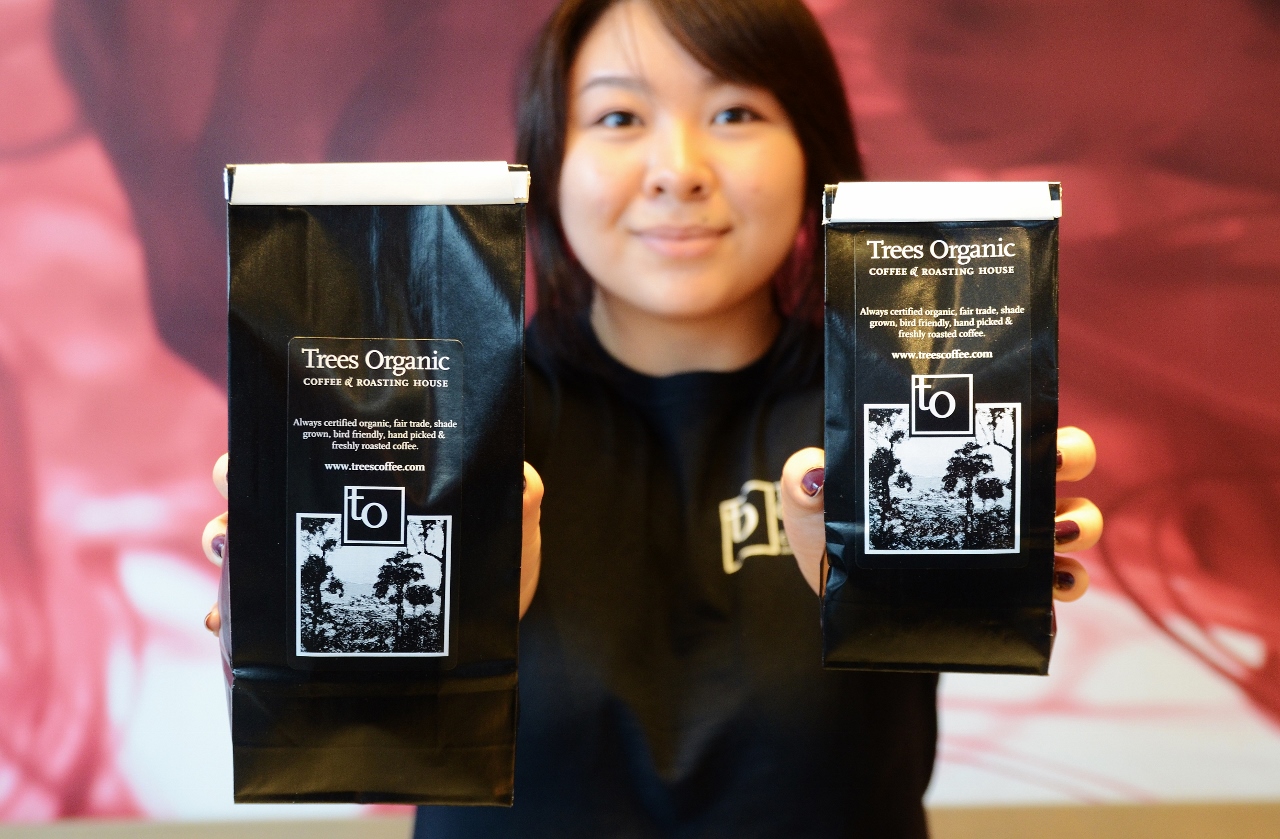 Loose Leaf Teas for Tea Lovers
For the tea lovers on your Santa list, impress them with loose leaf teas from our wide assortment of 30+ tea varieties at our flagship Granville Street café and a range of 12-15 varieties at our other four café locations in Vancouver. Loose leaf teas can be purchased to take home in 50 g and 100 g bags.
Gifting Is Easy With a Trees Organic Card
Don't feel lost for what to give, as gifting is easy with a versatile Trees Organic Card. Your giftee can enjoy anything on his or her foodie wish list from Trees Organic Coffee and Roasting House.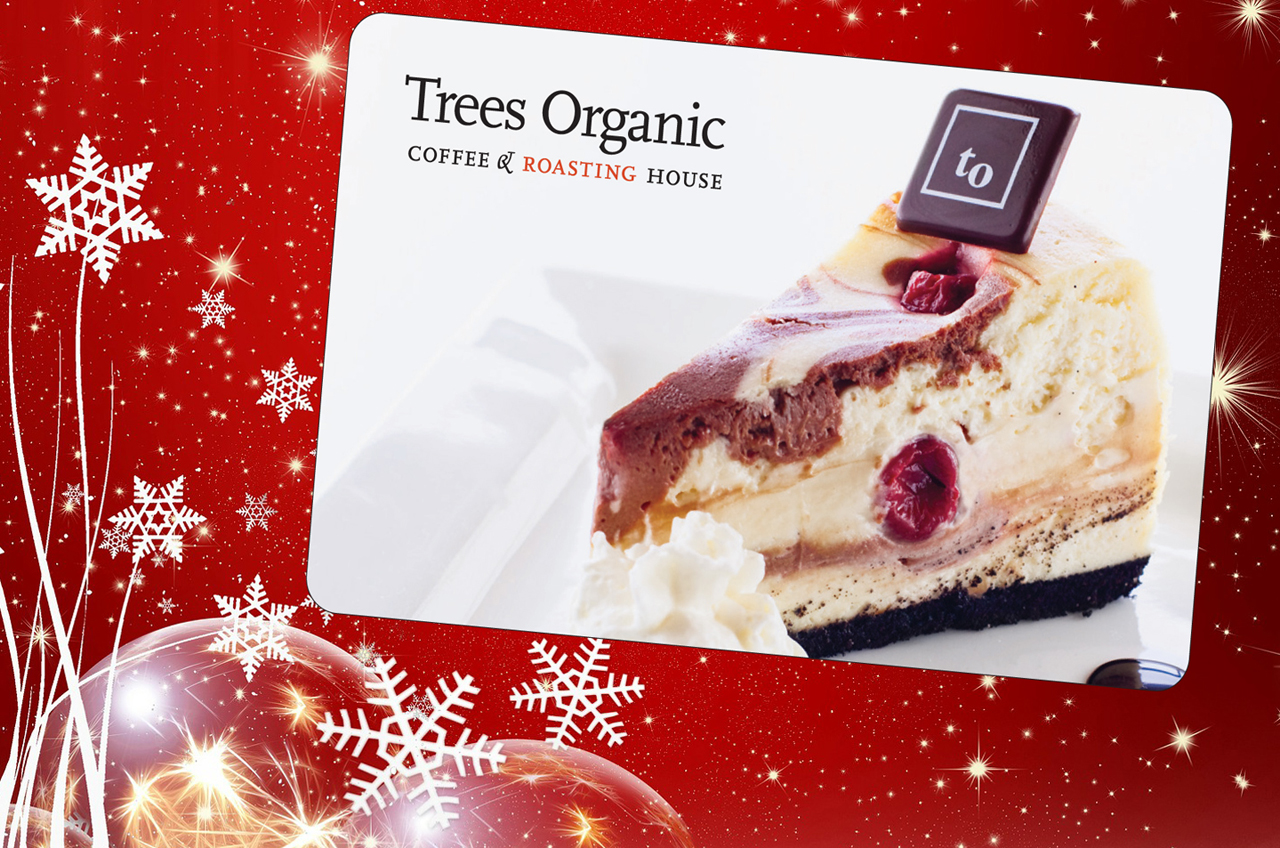 There are savoury dishes to warm their appetites. There are sweet treats to indulge their favourite flavours. There are a range of hot beverages to bring comfort and joy, from espresso drinks and tea, to hot chocolate and apple cider. And, there's much more. The Trees Organic card is an ideal stocking stuffer or Secret Santa present for the foodies on your list! Happy Holiday shopping!